ZeroTherm BTF90
We are today taking a look at our first processor cooler since our restart in October. We are starting out with the BTF90 from APACK.

A short from the APACK website;
APACK is a heatpipe technology based thermal solution provider which provides customized designing and engineering solutions and, ultimately, provides best-of breed thermal solutions.

Apart from creating cooling products for the end users they also create customized products for the OEM market, meaning; Samsung, LG, Dell and a few more.

Our product today is the first of three from ZeroTherm which is a brand owned by APACK.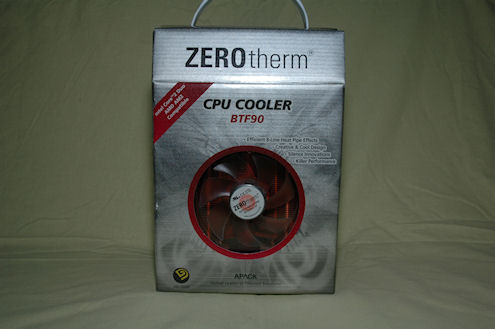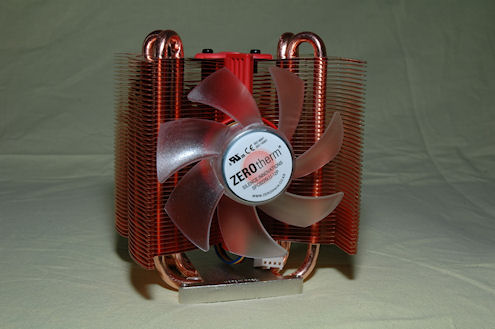 The BTF90 comes in a silver package with a window so you can see the fan and a little of the cooler in the background, it is a very good looking package. This CPU cooler supports several different sockets. It is fully made out of copper and has a butterfly shape if you have a look on the cooler from the top.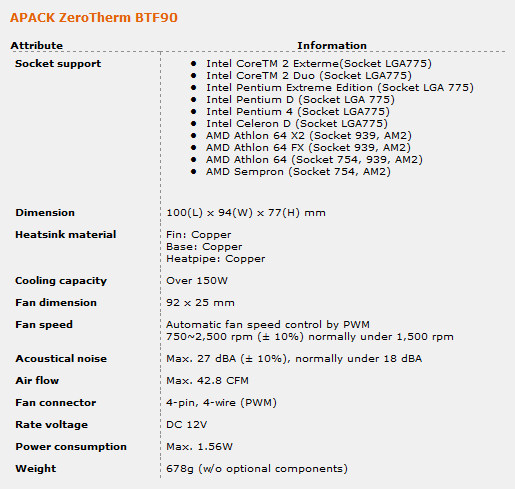 It features 8 lines of heat pipes to ensure maximum heat transfer from the base to the fins. Mounted on the cooler is a 92mm semi-transparent fan which is illuminated from the center and out.

The fan is an automatic PWM fan with speeds from 750rpm up to around 2500rpm and APACK says that the fan normal is running below 1500rpm, which sounds pretty good. Our fan is of the special Silent UFO kind, which means "Ultra maglev Forms Oil protection".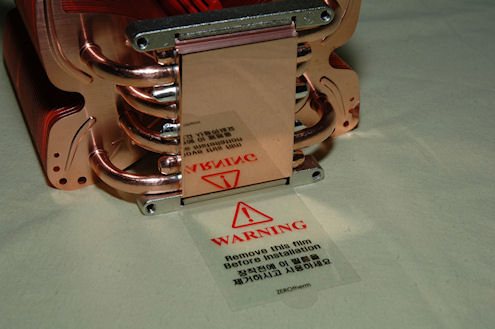 If we take a look at the base of this cooler we find, if you ask me, the best mirror like base I've ever seen. Just have a look on the following screenshot and get an idea yourself.

We didn't even need to clean the surface when we received the cooler, well done guys! Although, we always clean the surface to make sure it is chemically clean before use ;)

All the accessories come in a separate box inside the package which include; mounting brackets, screws, thermal paste and the manual.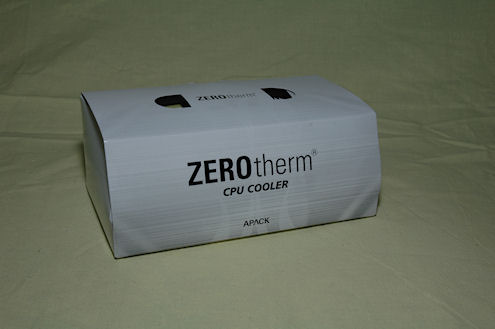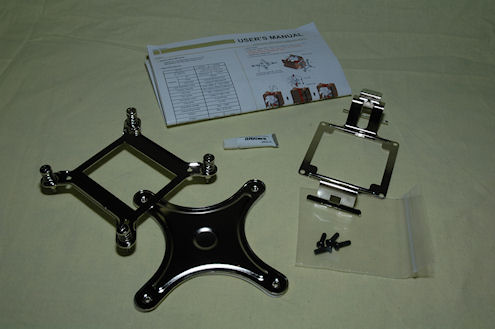 On next page we will stress test our cooler and see how it performs.