ZeroTherm BTF90
As usual we test it with our newest test rig which houses these products.
Intel Core2Duo E6600 @ 2.4GHz 4MB FSB1066
Gigabyte GA-965P-DQ6 iP965
XFX GeForce 8800GTX XXX 630MHz GPU 768MB DDR3
2 GB Corsair XMS2-6400 Twin2X2048
3x Western Digital WD2500JS 250GB 7200rpm 8MB SATA2
Windows Vista Ultimate
The interesting part here is the Intel C2D E6600 which is rated at 65W and is produced with the 65nm process.

As this is the first time we test a CPU cooler since our restart last year, we want you to know in detail directly in the review how we test our coolers.

Step by step guide
1. Clean both heatsink and cpu from all earlier chemicals and thermal pads or compounds.

2. Apply our testing compound which at the moment is two different, so we will run all tests with two different compounds to see if there is any difference between the two. As we use, for the moment, Arctic Silver Lumiére and Tuniq TX-2 thermal compounds, which is "fast" compounds, we only need to run a stress test once for 30 minutes to let the thermal compounds to even out over the cpu surface and then cool down also once, before we can start our real tests. When we are ready for cool down our test rig will stay off for at least 60 minutes to reach ambient temperature.

3. Install the cooler over the processor on the motherboard with included mounting brackets. Also place the external probe directly against our processors own heat spreader on one of the sides, not on top on the cpu ;)

4. Turn off additional fans and other accessories that may interfere with the testing and only use one intake and one blowout fan.

5. Start up the computer, let windows idle for about 30 minutes.

6. Start up a cpu-burn in software to generate 100% load and run it for at least 60 minutes to get a smooth average value. Take the load temperature.

7. Let the cpu cool down to idle mode and leave it there for a minimum 60 minutes. Take the idle temperature.

8. We then repeat step 6 and 7 twice to get more than one reading, we then take the average of these numbers for load and idle temperature and present them in our temperature result table.


Temperatures is measured with an external temperature measurement tool and using two programs. The first is CoreTemp and the second one is TAT named respectively in the temperature result table Core / TAT.

As we use two thermal compounds to test this heatsink we need to follow our own guidelines twice to ensure correct test procedures.

While most, if not all, manufacturers ship their coolers with thermal paste we will never use them. Not because they are bad or in someway harmful because they will do their job as promised.

No, we only use one, or at the moment two kinds of, thermal paste to get a more accurate result compared to other coolers with the same test rig.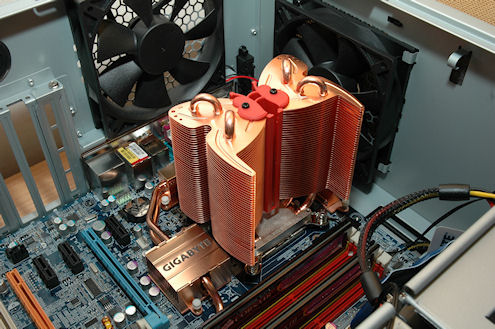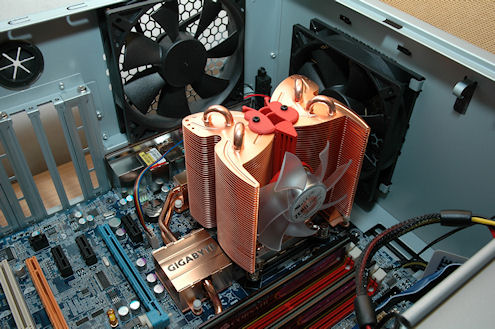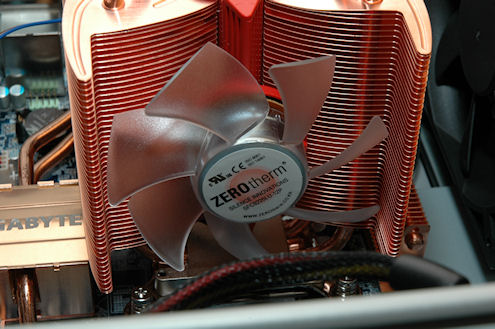 When installing this product you need to remove the motherboard from your computer chassis, making this installation a little more time consuming than the stock cooler. But I like that we get the screw type of installation as I feel more secure with this compared to the stock solution from Intel.
The following numbers are the results of our tests.

On next page we'll take a look at the score and our conclusion.