Netgear Arlo Q
Netgear is continuing their line of security cameras and their latest release is the Arlo Q, in their Arlo series. While the original Arlo was very successful and featured a complete wireless design, WiFi and powered by batteries, some didn't like that the camera couldn't record 24/7 – something that of course could drain the batteries in a matter of hours, at best.
The solution to this is Arlo Q, still a wireless camera when it comes to connectivity, but this time around it needs a power cable. With the new camera you don't have to worry about changing batteries, but you also get the feature to record 24/7 with a simple and easy to setup subscription – please note that you don't have to setup a subscription to use the camera, you can still record footage for free.
The new Arlo Q, like the original Arlo, record video and photos to the cloud which is perfect as you don't have to setup your own storage at home or put a memory card into the camera and then either set it up to continued overwrite or manually have to remove videos when the memory gets full.
Out of the box the Arlo system gives you 1GB free cloud storage for video and photos taken by the Arlo with up to five cameras connected to the same account, for 7 days. This does not mean that from registering you get 7 days, no – you get 7 days free for the foreseeable future.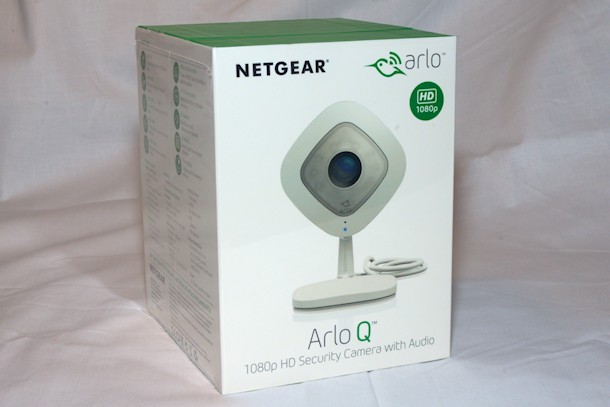 It is as easy as, if something happens on your vacation when you're not at home, for example on the 3rd day someone triggers the camera to record. From that moment you have 7 days to look at and retrieve the material off the cloud service. If more than 7 days pass, it gets automatically deleted.
Unless, you subscribe for one of the storage plans Netgear offer for the Arlo system which can, at the moment, give you up to 60 days of timeframe for retrieval of material, 100GB cloud storage and up to 15 cameras. This could change at any time, but I doubt it will change to be worse.
There are also 24/7 CVR plans available with up to 30 days around the clock recording, just like any other security camera system. However still, you don't have to worry about the storage – Netgear manages the storage, makes sure it is safe and doesn't corrupt due to failure of hard drives. This only makes the Arlo system more reliable.
As long as you have an Internet connection available.
And this is where the Arlo system may have a flaw, because if the system loses the connection to the Internet, you have no footage at all. As there are no features at all, at this moment, to record to local storage, you're pretty much screwed.
But instead of looking at it in a negative way, which of course is a possibility, you could instead look at another solution together with the Arlo system, no matter if you use the original system or the new Arlo Q.
First off, for the power you could use a battery backup, like an UPS. This way the burglars can cut the power, but you still have power to your cameras. But what about Internet? If the power goes out in the whole block for example, you have no use of your modem/router (also possibly on battery backup) even if it provides WiFi access to your cameras because at this point the local ISP (Internet Service Provider) gateway is probably shutdown due to power outage as well.
However, there are several solutions to this as well. Recently, I believe last year, my data allowance was increased on my phone from 2 or 3GB to 50GB, for free just because I was a loyal customer and haven't changed my subscription for more than 2 years I think.
So, possibly I could setup either a phone with WiFi tethering or setup a 3G/4G access point that serves the Internet to the cameras. Because hopefully there is not a citywide power outage, if it were – why would someone enter exactly your home?
Anything is possible of course, but hopefully the cell tower still has power and can provide Internet access to your phone or access point and to your cameras.
So, even if there potentially are flaws with the Arlo system, you can circumvent them in many ways to make the system reliable. Also, are there really other security camera packages that don't have flaws?
Why did I bring this up? Well mostly because I did some research on the Internet prior to the review to find out more about the Arlo system and what it can and cannot do. And with that said, I don't intend this article to be an outright sponsored promotion for the Arlo system, instead I just wanted to point out that even if some people have complaints and ideas on how the system should work, just work with it and make it work.
This goes for many products.
Well, on with the testing on next page!