Brother P-touch P750W
Today we're having a look at our first Brother product, a label printer named P-Touch PT-P750W. Not sure about you, but I've used label maker products before and they are extremely useful for labeling things that you want organized.
But no matter if you've used one in the past, it is more than likely that you've seen a printed label at some point. The chance of it being printed by a Brother product is also very high as they are one of the three largest companies dealing with label making products.
I've personally been in contact with label makers both from Brother, but also from Dymo and Epson. However, I've never used a version like the one we have on the test bench today. The PT-P750W is actually not featuring any sort of keyboard, as most label makers normally comes with. Instead you connect this printer to your computer or portable device such as phones and tablets, either through USB or WiFi. The connection is also quite simple with NFC for devices that supports this.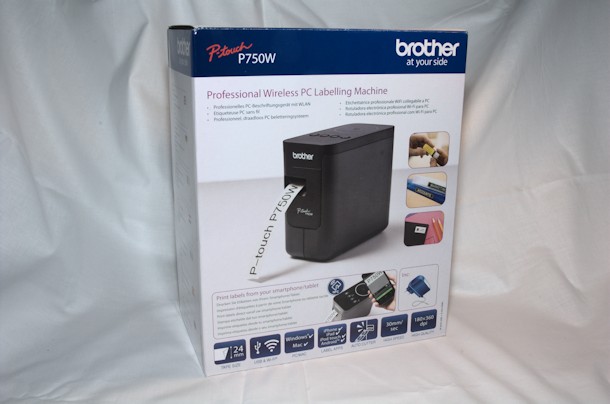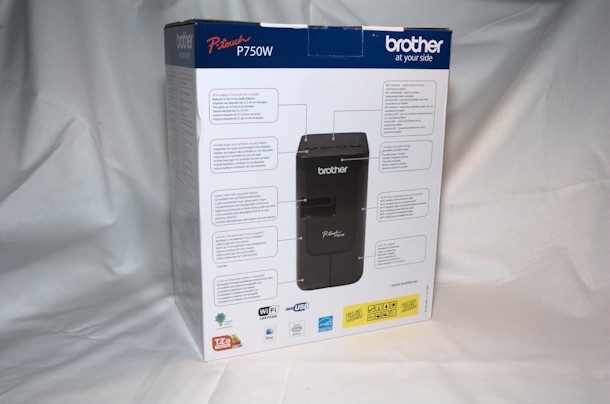 More with the features later, first let's have a look at the actual product.
The P-Touch P750W from Brother comes in a stylish box showing off its features, but also some examples of what you could label. Of course, in comparison with what you actually can label the examples on the box is just one breath of all the air available on earth. I can also tell you that, when I first thought about testing the P750W I had so many ideas on everything I could label, but then when the review unit arrived all those thoughts were blown away.
I have come up with some things to label and I'll show that later on.
The P750W can handle a label width of up to 24mm and if you would really like to, print a maximum length of 8 meters, as the tapes that is sold for this machine – named TZe – all features an 8 meter roll of label-tape. Amazing! A few tapes do actually come with a shorter length, but the vast majority is the full length.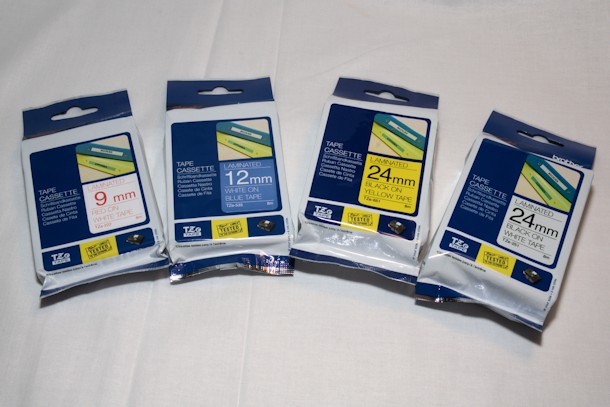 As said, the machine can make use of TZe tapes which features a whole host of different colors. But there are also special tapes such as extra strength tape TZe-S, non-laminated tapes TZe-N, flexible tape TZe-FX, fabric iron-on tape TZe-FA, security tape TZe-SE, matt tape TZe-M, and finally HSE tape which actually isn't so much of a tape as it is a heat-shrink tube. Perfect for labeling cables either before you put a connector on the end or for electricians use marking cables in electric cabinets.
The combinations of colors and type of tapes is just, unbelievable. Ok, you don't have every color and shade of the rainbow perhaps, but you have enough colors to really match or make the label stand out from pretty much any colored surface.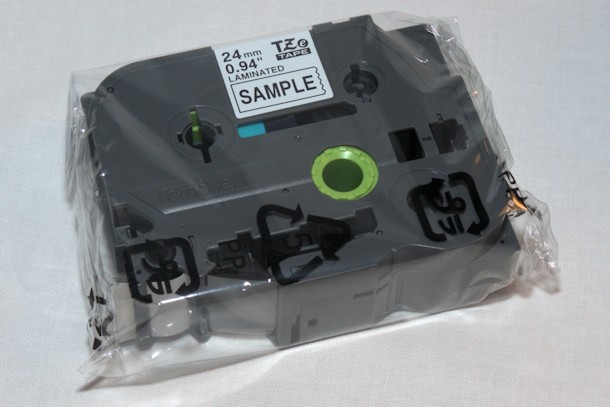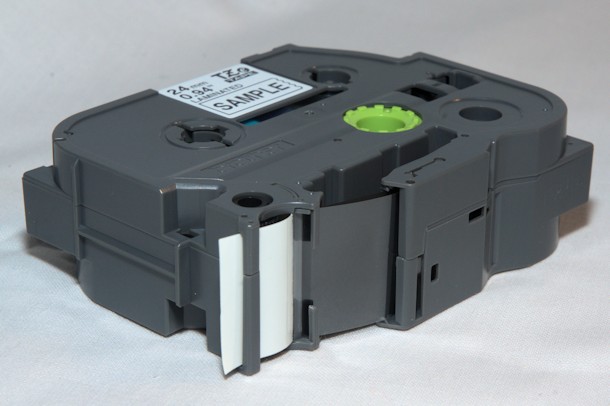 Do you want some clear tape with black text? How about white on clear tape? Warning text, black on yellow? For a more exclusive design you could go with silver on black or even gold on black.
The width available for tapes are 3.5mm, 6mm, 9mm, 12mm, 18mm and 24mm. There are larger ones as well, but the P750W can handle a maximum width of 24mm which certainly should be enough.
The machine itself is a black little box with a very clean and easy to use design. It's size is a mere 78mm(B) × 152mm(D) × 143mm(H). Not a lot larger than the actual tape cassettes. It weighs in at 820 grams without batteries and tape cassette.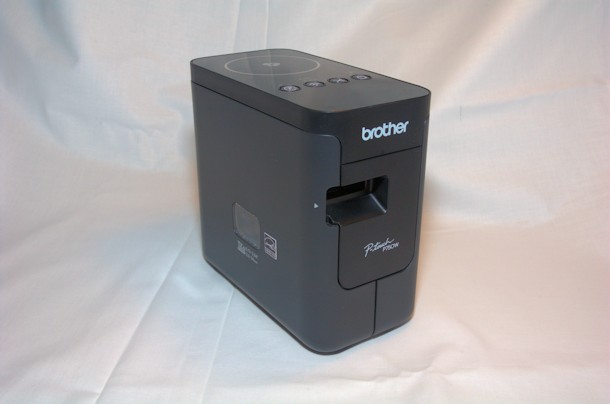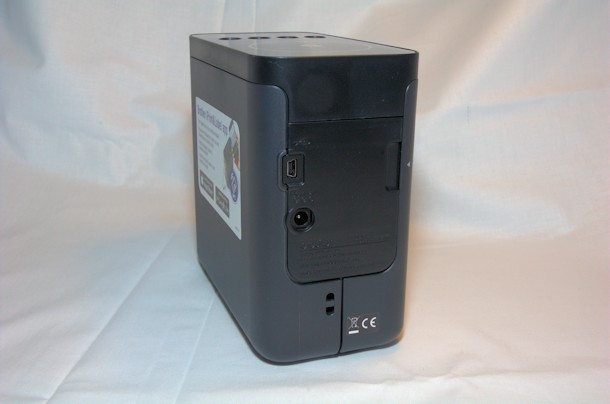 The front features the hole where the labels comes out, as well as the brother logo and the model number P750W. In some places the machine is known as PT-P750W and the PT stands for P-Touch, the brand that Brother is marketing for their label machines.
In the back we find a USB port and a power-in jack to be used if you want to have the machine stationary on a desk for example. In the bottom we can also see two holes, I couldn't find any info on these but I could imagine they could either be used as a place to fit a lanyard to easily carry the unit around or perhaps for security measure to fasten it to something on your desk so it doesn't walk away.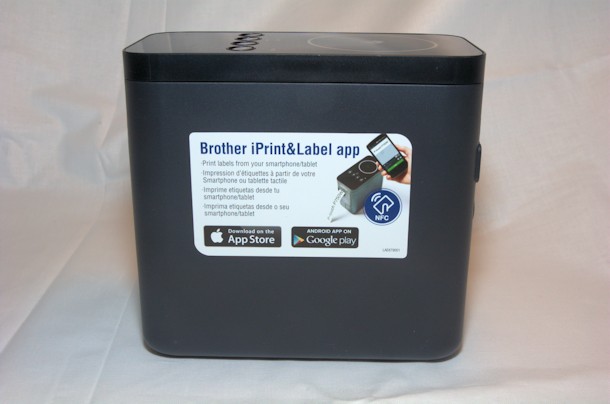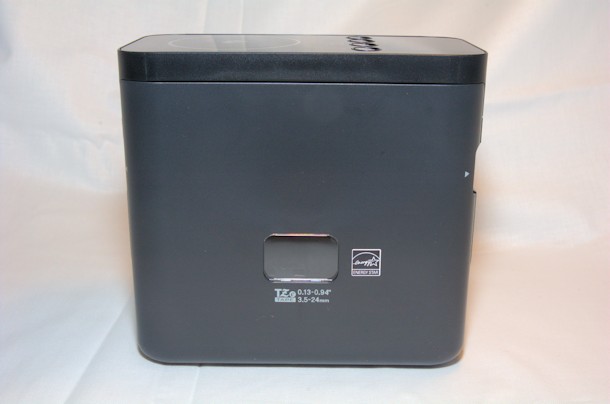 The right side of the unit displays a sticker informing you about the smartphone and tablet apps that are available both in the App Store but also on Google Play. With this app you can control your label printer and print a whole host of different labels with quite a lot of options, not as much as with the computer program but still enough to do most jobs.
On the left side we find a small window which shows what kind of tape is fitted inside, which makes it easy to find out that information without opening up the machine. A small note under showing which tape is supposed to be used with the machine as well as the sizes both in imperial and metric sizes.
Last but absolutely not least, the Energy Star logo. This logo says that the product uses typically 20-30% less power than required by federal standards. All this deciding for us.. If I want to use a product, I'll use it. No matter if there's a need for a nuclear power plant to use it or not ;) But luckily, this makes the product, energy wise, quite cheap to use.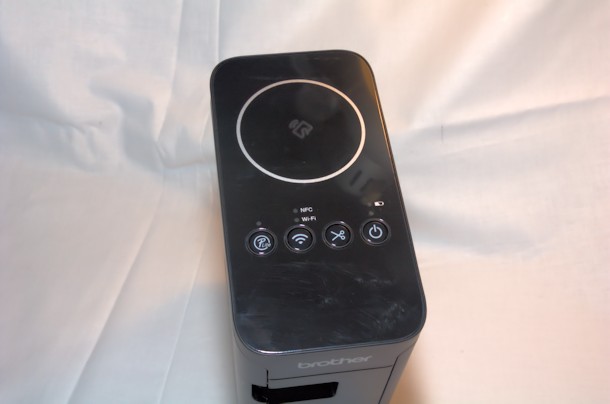 On top of the printer we find four buttons and the NFC space. If your phone or tablet features the NFC function you can easily connect to the printer by just hovering the phone over this area.
The first button from the left is the P-Lite function. If this is lit, which it is by default, the printer connects an internal USB memory to the computer when you connect it. On this memory there is a printer application so that you don't have to install anything at all to use the printer, you're set to start printing labels.
However, if you would like to use the more advanced software P-Touch Editor you must install this and switch this function off on the printer. Something that also is done automatically when installing the more advanced software.
Next button features the wireless functions. If you press this button you activate both the NFC and the Wi-Fi functions. Of course, to be able to connect to a wireless network you need to configure your printer with a computer.
This was easy enough when you installed the extra software that was needed. However, the wireless signal from your router is picked up quite weak on the printer so it needs to be quite close or you need to have a much more powerful router. Other than that, it works.
Third button is the manually initiated cut button, if you would like or need to cut it for some reason. For example, if you shut off the automatic half and full cuts from software.
Fourth and final button is the power button. There is also an extra led here showing the status of the batteries. Because if you'd like, you can both insert six standard AA batteries or a rechargeable pack which can be purchased separately. This makes the printer fully portable, just like any of those regular label makers with a keyboard that I mentioned earlier.
Sure, then you would either need a laptop or a smartphone/tablet to send data to the printer to print out. But who doesn't have a phone with them today? I guess that there is a very small percentage that fits that category today.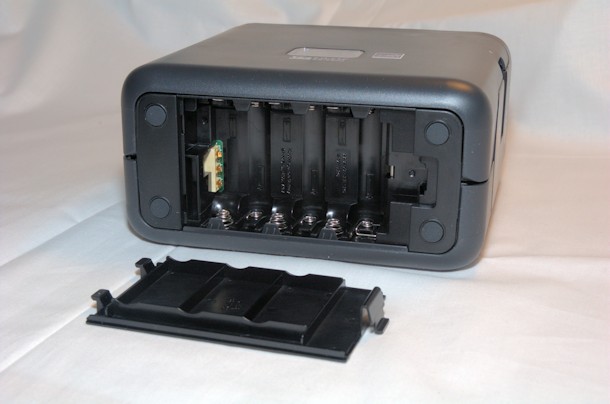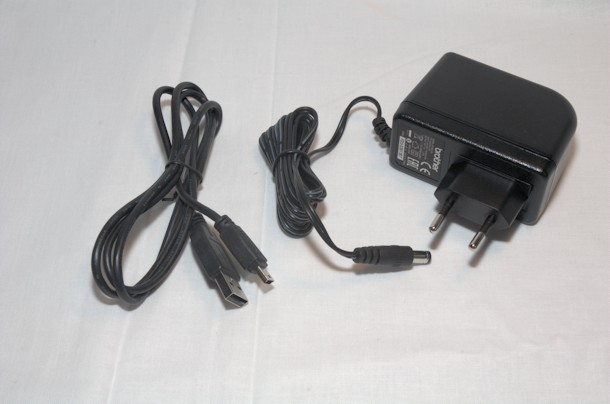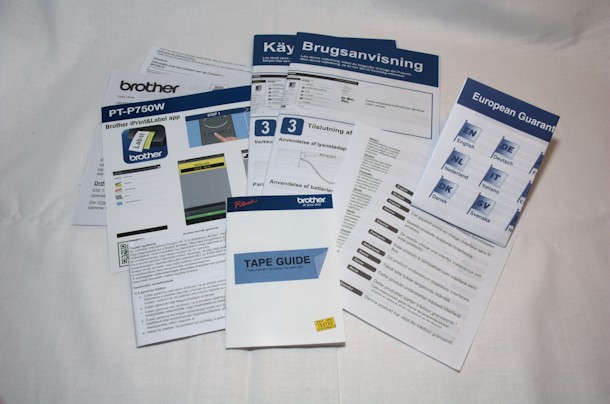 Further in the box we find both a power adapter and a lot of brochures and leaflets – all about warranties, tape types, user manual and such.
On next page we'll take a look at the installation of a tape cassette and then print out some labels.