Akasa USB Smart Charger
Today we're having a look at another Akasa product and it is the USB Smart Charger. As everyone knows since many years back, we need chargers! Whatever tech we're dealing with, we always need to charge it and even though the battery technology has become a bit better, we're still far from the perfect battery.
We could also look at this in another way; Poor batteries! Every time the battery technology goes one step ahead the hardware that uses that sort of battery goes like 2-3 steps ahead and demands even more energy. So in a way, the batteries are incredibly better compared to those a few years ago, but due to the fact that our phones, and the like, requires more power, we will get about the same performance as we did a few years ago.
So we're still in need of chargers, no doubt about that!
What kind of charger should we have then? Well it depends on what kind of product you want to charge, a tablet often wants around 2A, phones can be ok with 1A but more and more devices these days want 2A or even more as well.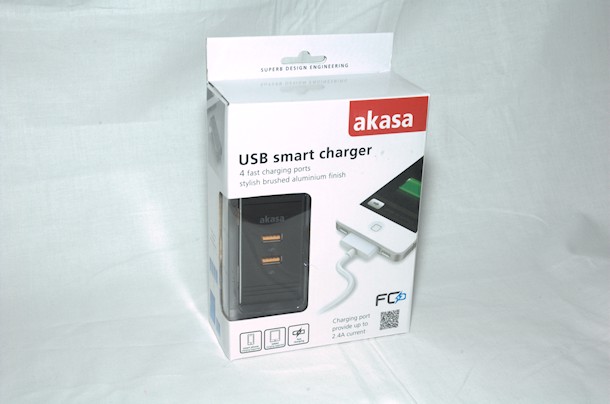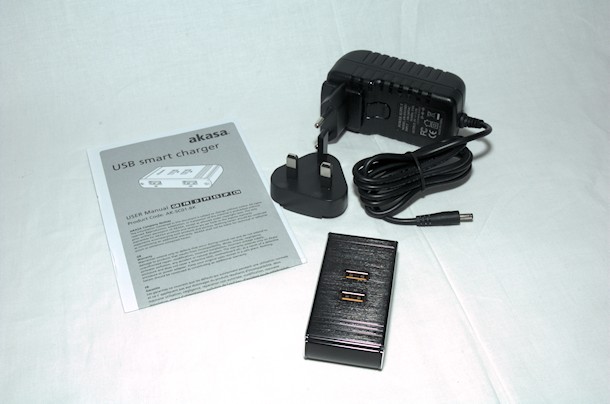 Therefore our review of the USB Smart Charger from Akasa is perfect in time as this charger can deliver up to 2.4A of current when charging.
The charger comes in an easy to open package clearly showing the product inside through a small window, we also find out that the USB Smart Charger has four ports. Inside the package we find a short user manual, the power adapter with both a European and UK plug.
The power adapter is specced for 5V and 3.5A, so I guess that some power is lost inside the charger while distributing the power to the USB ports, or maybe not – we'll check on this later on. Furthermore, the power adapter is specced 100-240V and 50/60Hz which means that there might be a US plug available for the power adapter as well.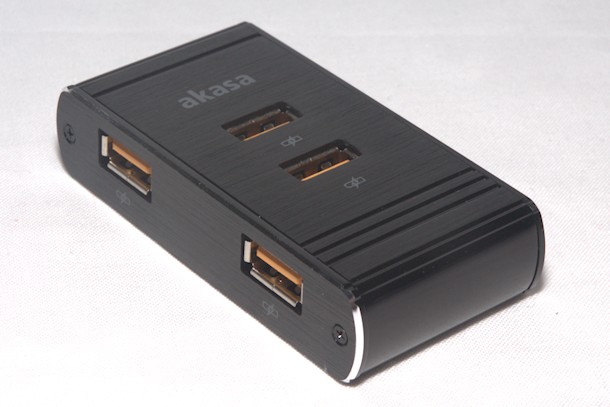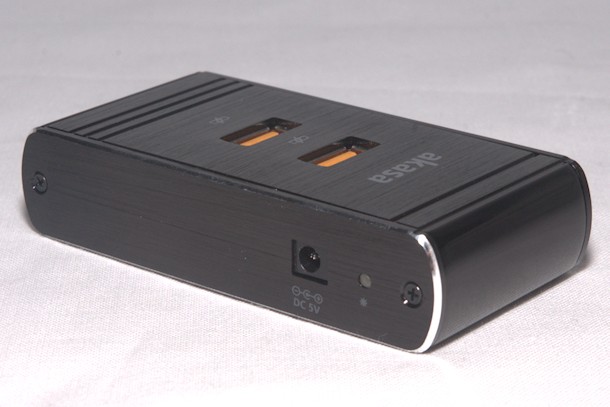 Product itself is made out of aluminum with a brushed feel, it also has beveled edges making the product both look and feel like a solid piece. The charger has two ports on the top side and two on the side. On the back we find the DC input which says 5V, but it doesn't specify how many Amps we should feed the charger with. However, the positive should be in the middle of the plug which always is nice to know if you need to replace the power adapter. Next to the input we have a blue LED which will light up when power is applied to the charger.
Not much more to look at really, so let's take a look at some testing.
For testing I've used this product with both a Samsung tablet which requires a charging current of 2A for optimal charging. Of course, you can charge most if not all devices with a lower current but it will take much longer for the device to finish its charging cycle.
I've also used the charger with a Samsung Galaxy S6 Edge and a CAT B15Q phone. The Galaxy S6 features something called fast charging which enables a charge to 80% in a very short time. This feature requires the charger to change its output voltage to 9V in order to fast charge.
The Akasa USB Smart Charger also says on the package "Fast charging" but after testing it seems that this charger is not compatible with the Samsung "Fast charging" feature. None of this is mentioned on the Akasa website, so I think that Akasa means that with 2.4A of charging current, you will be able to charge most devices that need up to 2.4A, in other words faster than if you're using a 1A charger.
It was just a side note I wanted to check, but it does not allow for the Samsung fast charging feature to pop in. Surely nothing negative, I just wanted to check.
So, after testing to charge the devices by themselves, I've also tried charging the CAT B15Q which requires 1A and the Samsung tablet which needs 2A and as far as I can tell, both from the happiness of the devices but also time wise, both devices seem to receive max current that they request.
Which means that the charger can deliver up to 2.4A on a single port, but then there is around 1A left for other uses, for example 1A to another USB port on the charger.
So in my testing it seems that the Samsung tablet receives 2A and the CAT B15Q receives 1A from the charger and they both charge at maximum current that they need.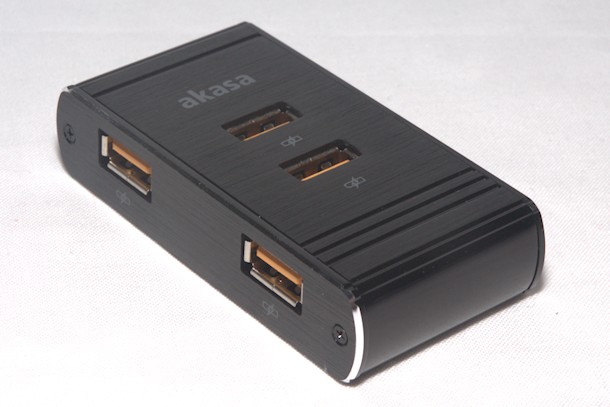 All in all, the USB Smart Charger from Akasa is a really nice product which certainly can be handy for anyone, especially if you're going on a trip and want to reduce the amount of chargers you're carrying with you. Perfect also that you get a UK and an EU plug, so you can travel within Europe with the same charger without problems.
This product certainly is recommended for everyone!
Finally I would like to thank Akasa for sending out the review unit!
Navigation
1.

Akasa USB Smart Charger