Genovation CP24
On our testbench today we have the CP24 from Genovation. Doesn't say much, does it? Well, to clear things out, it is a keyboard.
As one can see however, the CP24 is no ordinary keyboard but nonetheless it features mechanical switches, Cherry MX to be precise. The keycaps are therefore standardized and you can even fit your own custom keycaps from for example WASD Keyboards, that we reviewed in a previous article. The keycaps that comes with the CP24 is however also customizable in the form that you can remove the top and insert a printout legend.
Why can you do this, you might ask? The reason for this is that the CP24 is a customizable keyboard and you can assign pretty much any feature, function, key combination to every single key.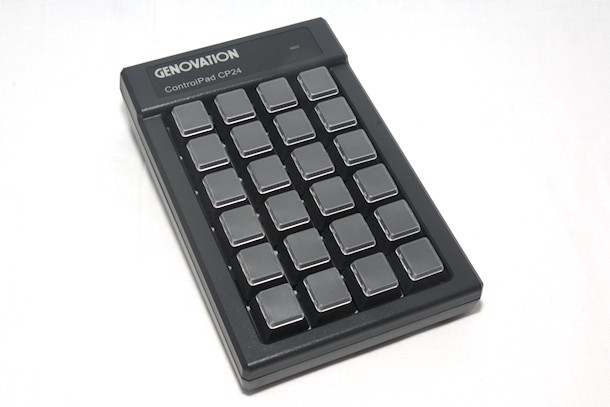 If you for example would like to have a numeric keyboard and just can't bear with the regular ones that you can find all over the web, even from Genovation, and want to customize how fast your numeric keypad should respond or how much output you would get on each keypress and so on, then you could certainly do that with the CP24.
Apart from making another, kind of fancy, numpad there are lots up on lots of different use cases for a customizable keyboard – more on that in a bit.
But let's take a look at the keyboard itself. The product comes in a very plain white box so I'm sure that the product isn't available on the shelf in your nearest computer store. However, the box isn't the important bit so let's rip it apart.
Inside the box we find the keyboard itself, the Genovation ControlPad CP24. This keyboard is a 24 key version, as the name suggests. There are also larger and different versions available on Genovation's webpage. This same product could also become a 12 key variant, just by using a double key instead of the single keys, for every two buttons. Some are included in the box, but you will have to buy additional ones if you would like to completely transform the keyboard.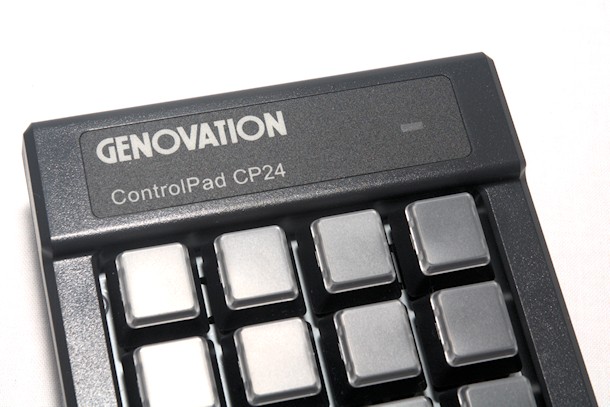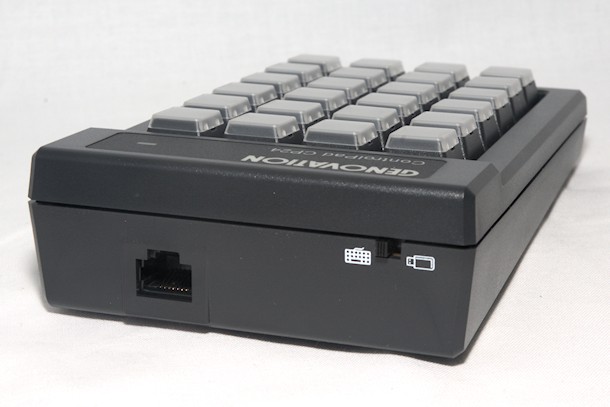 On the top right we find an LED which is controllable by the software.
Around the back we find what appears to be a RJ45 jack, and it is – however, don't try to connect it to the network because that's just wrong. Genovation has created a special cable that is RJ45 to USB, so the simplest way or of course the only correct way, to connect this keyboard is through USB.
You can also see a switch that can be set in one of two positions, either USB Keyboard mode which make the device appear to your computer as a keyboard and you can program it through the software for the CP24. You can also switch over to USB Program mode in which you can transfer a complete configuration for the device as a file, just like transferring files to a USB flash drive.
On the back we find the regular model number, serial and manufacturer information.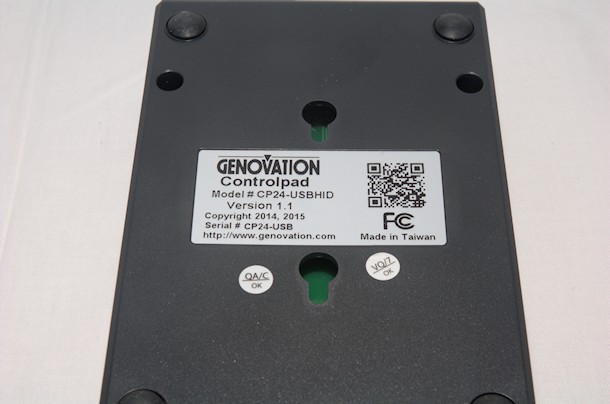 Together with the CP24 we also get three double keys, three extra single keys and a keycap puller, which makes it very easy to pull the keycaps off. Of course, you can use any sort of keycap puller or even a table knife to pop off the keycaps, but it can damage the mechanical switches if you're unlucky.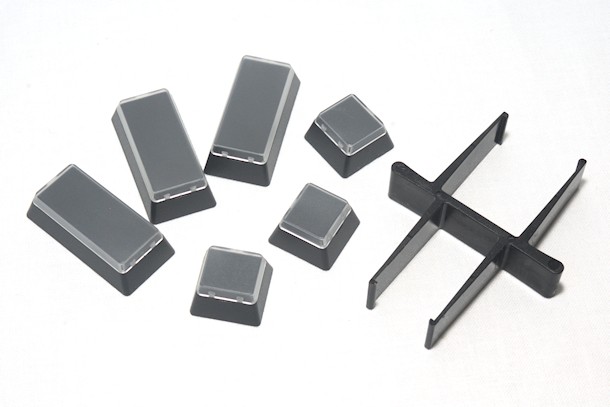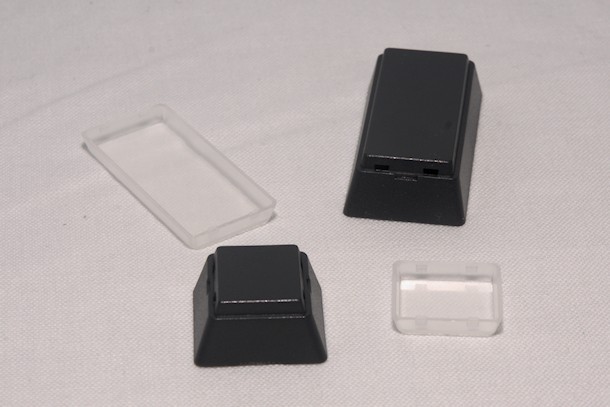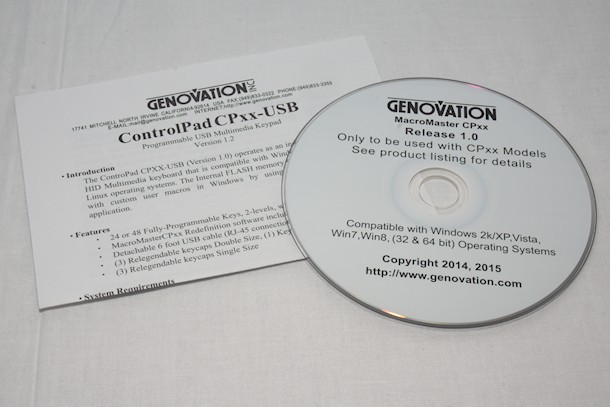 The caps for the keys are easily removable, not while using but when you decide to remove them. There is also a template from which you can customize your custom legends to put under the cap on the keys, which certainly makes it easy to put new legends into the keycaps.
We also get a CD and an introduction leaflet inside the package. As always, you're most often better off with downloading the latest drivers off the manufacturers website as there might be newer drivers available.
However, for off the grid installation it's always nice with a driver CD so you don't have to find a computer with Internet access before you start installing your device.
So, how do we get this to work then?
Well it's quite easy, even if it might feel complicated. The software MacroMaster CPxx has a large window, some empty keys resembling the CP24, a complete keyboard on the bottom and something that appears to be where we save the keystrokes.
To get started, you press the keys that you want to have recorded to your first button. For example, we just press H E L L O and those keys are saved in the Key Codes display. At this point we can see that we've used a length of data equal to 5 out of 220. We can save up to 220 actions to every button.
If we now click on the Download button that configuration will now be saved to the keyboard and the next time you press that first button it will directly output H E L L O to for example a Word document.
Of course, if you're too lazy to type such a simple word then you might have to think again.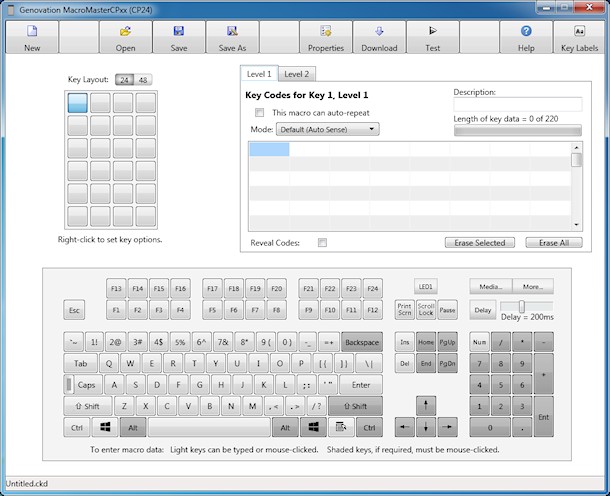 There are many other ways to configure the keys with all sort of special combinations. For example you can use keys that normally aren't available on any keyboard such as the F13 to F24. Quite easily you can fill half of the CP24 with those keys and you're set.
After that you can configure key combinations such as CTRL-F13 or CTRL-ALT-1 or CTRL-ALT-SHIFT-1. The more complicated key combination that you can think of, the better as you can be quite sure that no other software is using those combinations by default.
Throughout the whole key sequence you can define if you want the LED on the CP24 to be on, off or flash. You can also specify delays between every output, if the macro should auto-repeat or if it's a one off macro. You can also input media keys to control media applications with Play, Pause, Next, Previous, Stop, Volume up/down, start a calculator or visit a webpage.
But you're not stuck with just "24" keys, there is even a second level, so after you've configured your 24 keys, you can configure yet another 24 keys. I must be honest, I haven't tried it out completely yet, but I guess you can configure 23 keys on the first level and 23 keys on the second as you need one key to switch between the two levels of keys – I guess that's quite understandable.
There are endless of things you can do with this keyboard, just think what you can do with the larger version with 48 keys, or wait, 96 keys – with the second level.
My tests of the CP24 consists of regular programming and using key combinations for photo software and adding specific filters and light levels with a single keypress. It is incredibly easy to program and get the keyboard programmed in every way I've tried.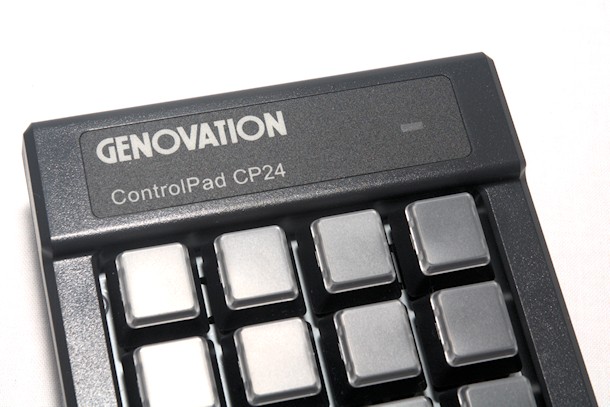 I've also tried with some cheats for namely Grand Theft Auto IV, in which you first ingame need to press the console button, then enter the cheatcode and press enter. I programmed the whole sequence with a very short delay and sure enough, GTA picked it up and with a single keypress I could activate and renew cheats ingame without having to enter the whole cheat, key by key.
Furthermore I've tried some key combinations for OBS Studio, which is a streaming software to stream gameplay to Twitch and Youtube. With the CP24 I configured a few different features, such as changing the scene from fullscreen gameplay to wait screen and away screen.
So instead of having to press for example CTRL-SHIFT-1 to change from one scene to the first scene, you just press, for example, button number three on the CP24 and it spits out the CTRL-SHIFT-1 automatically and the OBS Studio software picks it up and understands what to do.
This is certainly a keyboard for everyone that uses key combinations more than once per day. It can simplify and make your work a lot more effective. What I like the most with the CP24 is that it's so small, so you can literally grab it with your hand and directly know that your hand is in the correct position.
I believe that the CP48 is a great product as well, but I think it could be harder to find the correct key by feel. The CP24 is so small, so you can easily find the correct key without looking.
Overall the CP24 is a really awesome and actually really easy to use product. The programming software is full of features but still not hard to use. You have lots of options and the fact that these keyboards use mechanical switches is just, amazing!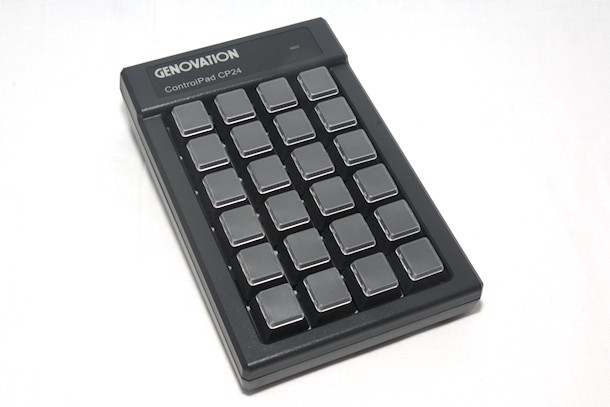 So, if you're using at least more than one key combination every day I highly recommend this product for you! If you think you're not using key combinations, think again! Also, take a moment and think about how many key combinations you know and how many you use – you'll be amazed!
In the end I would like to thank Genovation for sending us this review unit!