Antec NP90 power adapter
Today we have another Antec product on our test bench and for a product type we normally don't review many products. What I'm talking about is laptops, notebooks, in other words portable computers. I guess it's apparent by now what I'm talking about, but you're probably wondering what kind of product we're going to test.
We're going to test the NP90, a 90 Watt universal power adapter for laptops. The NP90 belongs in the Antec Advance series of products and has been out for a few years but they are still available and if you're not keen on using an original power adapter for your computer which can cost as much as twice the cost of the NP90 or if you just need an additional power adapter, then this product could be very useful for us.
The NP90 comes in stylish and clean package clearly showing off the product itself, except the cables of course. It also shows off the different type of connectors that is included. As this is a universal power adapter, Antec has included connectors for a wide variety of computer manufacturer brands to try and cover all the different ones available.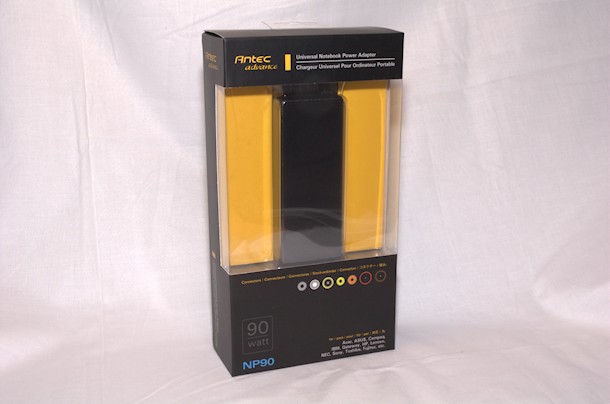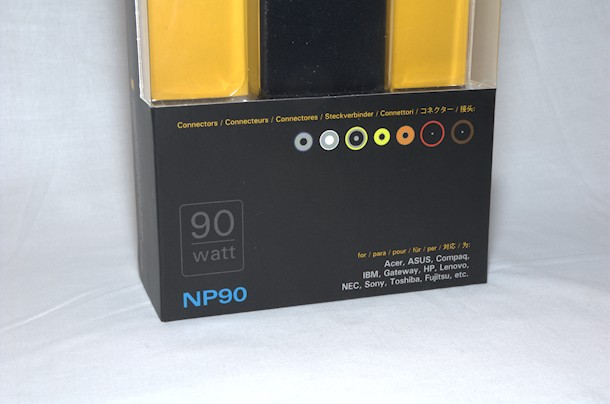 Some include Acer, ASUS, Compaq, IBM, Gateway, HP, Lenovo, NEC, Sony, Toshiba, Fujitsu and more.
If, or rather when your original power adapter fails it can be quite tricky to find another one, even if you have several available as all manufacturers are so stubborn that they just have to have a different variant. Most, if not all, laptop power supplies work on 19V today with a draw of around 3-5 Amps. Why not standardize one type of connector today, just like we did with charging connector on cellphones, just a few years ago all manufacturers decided to use the micro USB connector and that has worked out just great.
It's time for laptop manufacturers to realize the same thing now! But until then, we can use a power adapter like the NP90 which hopefully does the job just fine, we'll check on the test results in a moment.
Inside the package we find the power adapter itself with a two meter long cable, plus the standard IEC wall connector which is just over a meter long. The laptop side of the power adapter is keyed, which means you will not be able to put the adapter connector on the wrong way, unless you use way too much force of course.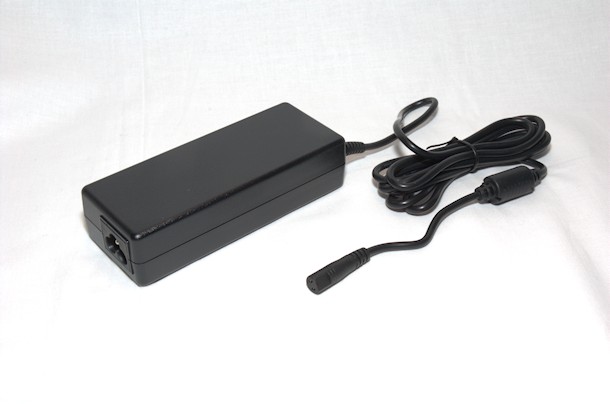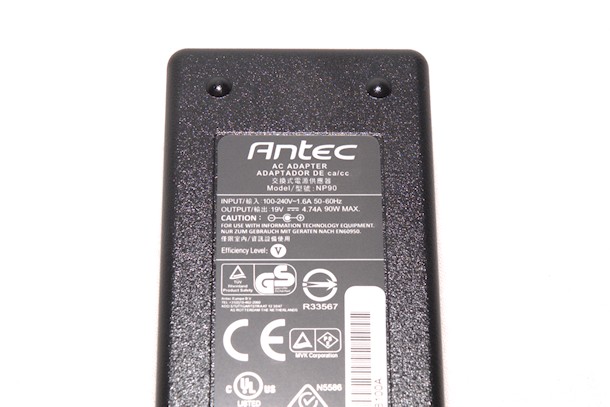 On the bottom of the power adapter we find out that the NP90 can take an AC input mains voltage between 100 and 240V and accepts both 50Hz and 60Hz which means that it is safe to use all over the world.
The output is rated DC 19V with a supply of 4.74 Amps which multiplied together equals the 90W that the power adapter is rated for. Together with the power adapter we get a total of 7 different connectors, color coded for ease of use.
So, what can we test this product for? Well, for starters we can test that it works by trying to power up a dumpster find we did a while ago. We found an Acer Aspire 3003, which of course is an old computer compared to the standard today. But I was determined to get it to work and see if everything was ok on the inside.
It turns out it works quite well and Windows XP was installed, it worked like expected with a decent speed. However, a Linux distribution worked better after going through that installation. So it now works with a Debian installation with a minimal desktop for upcoming Linux tutorials here on SweMOD.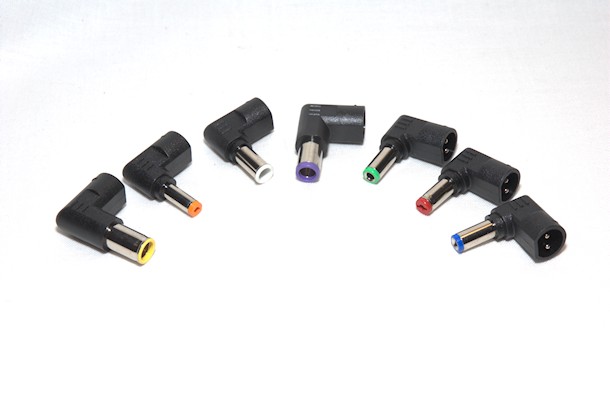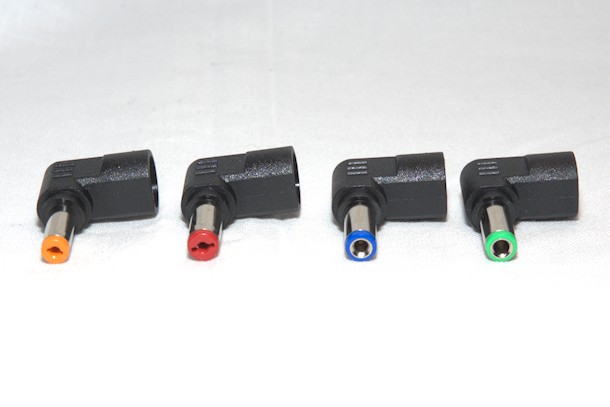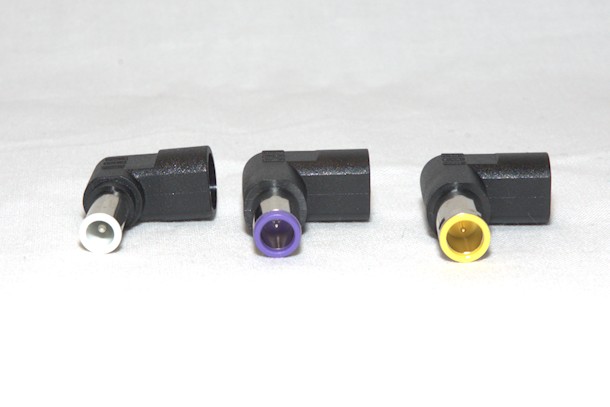 But that is not the only way to test the power adapter. I remember a few years ago on a press event that Antec hosted that they have always been and still are, very proud of their power supplies with high ratings and excellent performance.
So we should probably hook up our oscilloscope to measure the startup and ripple voltage of the power supply. Something that I've been a witness to in the past is that a power adapter that is badly designed, can destroy the receiving device if you connect the device before connecting the power adapter to mains voltage.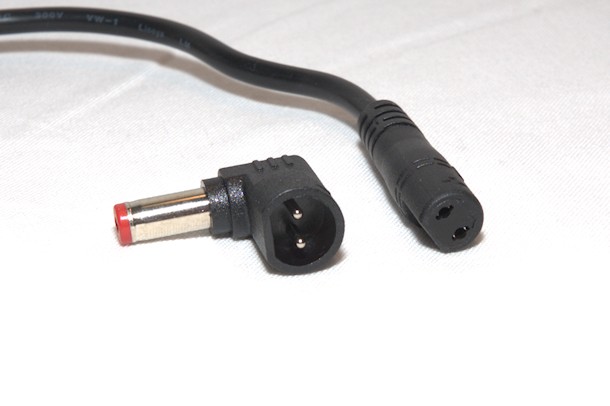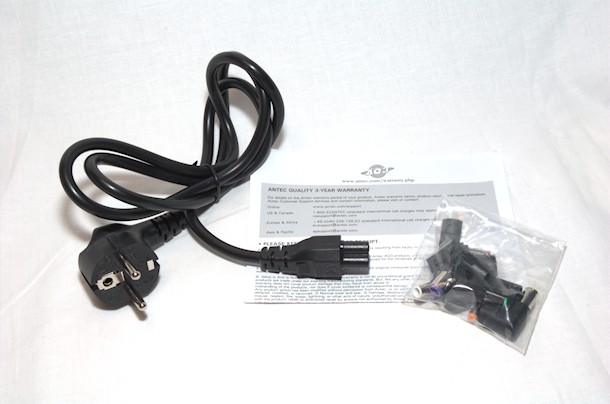 This is also called a spike and if there isn't enough suppression designed into the power adapter, it can easily give out a much higher voltage when turned on, than it is designed to give out.
I've actually had cellphones in the past that has taken damage when connecting the USB lead to the phone before connecting the charger to the wall, not very fun at all.
When measuring the startup of the NP90 on an oscilloscope we can see that the startup takes about 8.5ms which certainly is very fast. But more importantly is that the output voltage of the power adapter goes from 5V up to 19.6V and stays there indefinitely, until disconnected of course.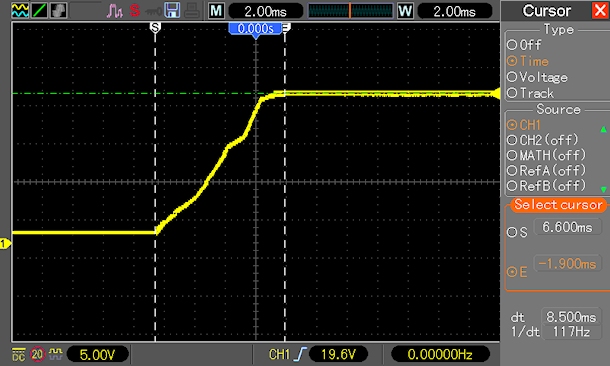 The voltage of 19.6V is due to the fact that the power adapter is not actively loaded, with in this case a laptop drawing power. When a computer is connected the power goes down and stabilizes at 19V and normally a voltage of around 0.3-0.7V isn't something that can destroy the circuits on the receiving end – basically because it is designed to handle a higher spike than that.
Overall the NP90 runs quite cool compares to named brand variants. It is one sturdy brick with adequate strain relief on the cables, great cable length and a great amount of different connectors to fit most if not all computer brands.
The NP90 is certainly a great product with its low price of around SEK 500kr, EUR €50, USD $52 or GBP £43.
Well recommended, not only to replace but to have extra power adapters in several places for your laptop computers.
Finally, I would like to thank Antec for sending out the review product.
Navigation
1.

Antec NP90 power adapter