Roccat Ryos MK Pro
The keyboard we're having a look at today is fully packed with goodies, it is the Ryos MK Pro from Roccat featuring things like per-key illumination, fully re-mappable, anti-ghosting and lots more. This model we have on our testbench today is the Nordic version and comes with brown Cherry MX switches.
The Ryos MK Pro is also available in black, red and blue Cherry MX switches and in a number of different region styles.
The keyboard is backlit with per-key illumination, in the color of blue. You have a six brightness levels to choose from and a number of effects, such as star patterns and exploding waves when you press one button. You can also set it as a delayed light, so if you press for example 1 through 0 on the keyboard in sequence and then wait, the keys will light up when you press them and go out in the sequence you pressed the keys.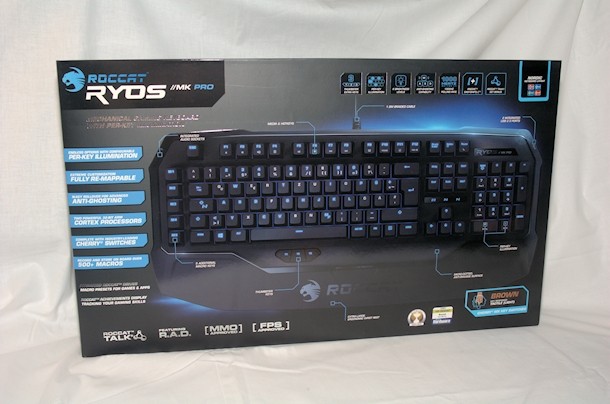 You can of course also set specific keys to be lit, if you for example want only the WASD keys or the arrow keys to be lit, or only the Function keys, you can customize it completely to your liking.
Furthermore the keyboard features a 1000Hz polling rate with superb anti-ghosting functionality and it is also compatible with the Roccat software such as Easy-Shift[+] and Roccat Talk.
All keys are fully re-mappable so you can set up really advanced macros, and for that you can save over 500 macros on the keyboard itself – very useful if you want to move the keyboard to a new computer and don't want to install the software again.
On next page we'll dive into the package and see what we get.