Roccat Kova
Today we're having a look at a new Roccat product, the Kova – in a late 2015 edition. There is also a previous model named Kova [+] which is a bit older.
The new Kova comes in a more terminator like style both in black and white. The version we have on our testbench is the white which is just, amazingly beautiful. However, I will not let the looks define the score, so let's dive straight into the package.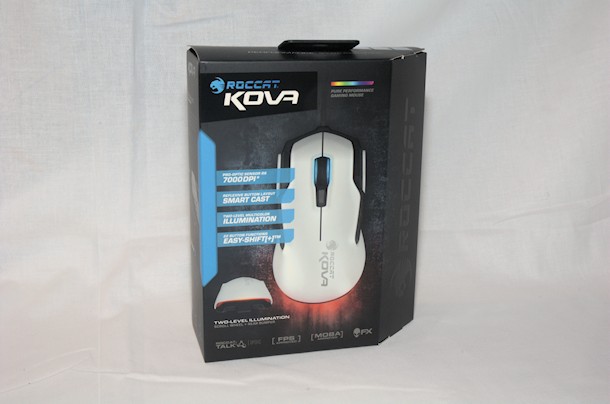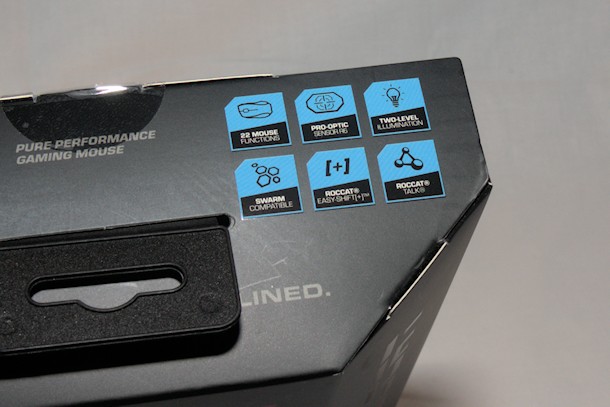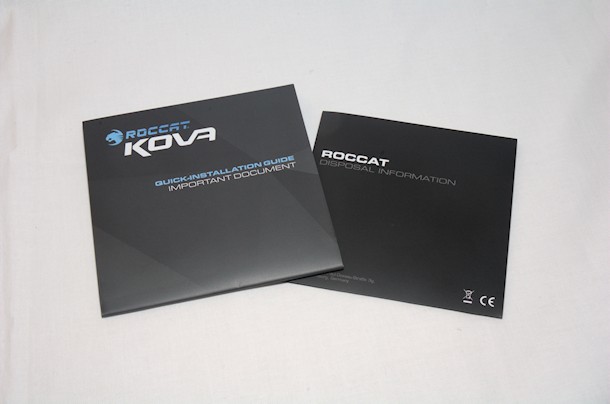 The package is very colorful but stylish, giving direct information of what it contains and the features and specs of the mouse. For one it has a two-level illumination, it also features a pro-optic sensor with up to 7000 DPI and it is also software compatible with Swarm, Easy-Shift as well as Talk, all of which are Roccat specific features that could help you in many ways controlling and using your input hardware – especially together with for example a keyboard from Roccat.
Inside the package we find the usual installation guide and some disposal information leaflet. When we're done throwing that away we find what possibly could be, the most beautiful mouse so far in history – I guess I'm in love with some white hardware.
The Kova comes in a straight and rather narrow ambidextrous design, which easily could be used by either right or left handed persons. It features a mirror design with all the features of the left side, copied to the right side. This mouse might be the best mouse to use, if you happen to feel like trying out being left handed if you're currently left handed, perfect!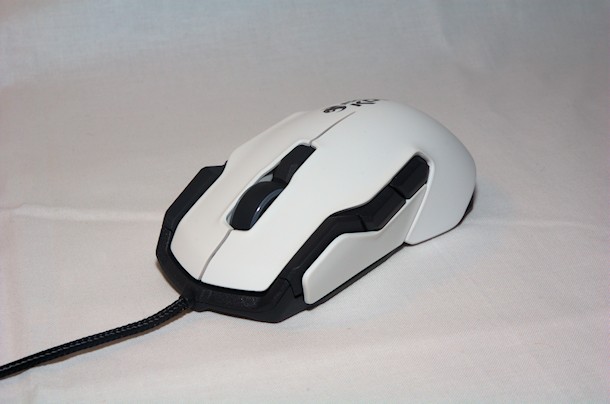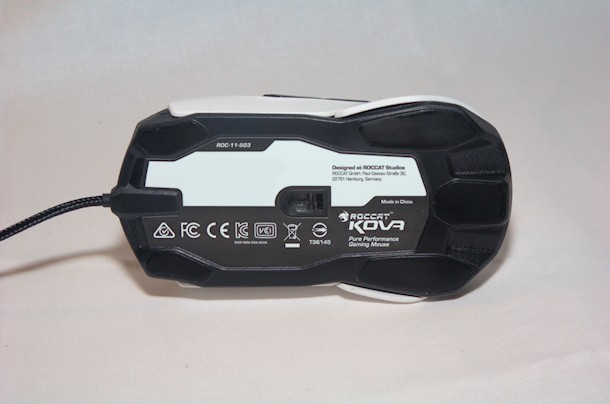 We find a total of twelve programmable buttons, including left and right, the mousewheel button as well as the roll forward and backward detail of the mousewheel itself. I'm one of those who normally never change the left, right and mousewheel functions, so for me it is essentially only seven programmable buttons – which to be honest, is really a lot.
Behind the mousewheel we have one button and then on each side of the mouse we have two for your thumb, which normally are programmed as forward and backward but then we also have a special mousebutton to be used for your index finger pushing out left from the left mousebutton. These buttons are then mirrored on the right side of the mouse but I find it a bit difficult to use the "forward" and "backward" buttons with my ring finger or even the pinky, so they are left unprogrammed.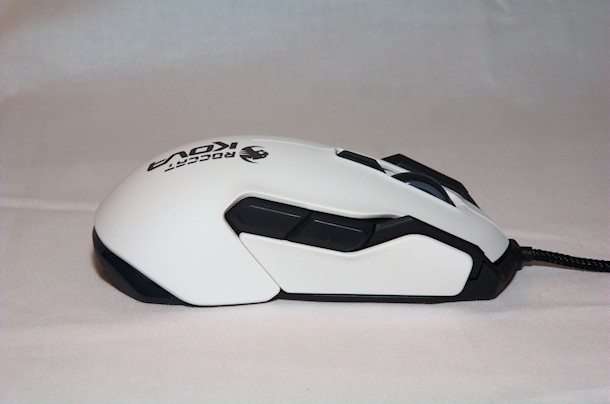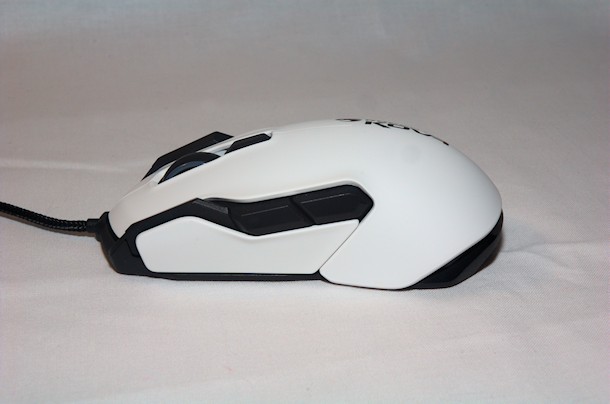 However the "push-out" buttons from the left and right mousebutton are very useful and by default they are programmed for page up and page down functionality which I've kept as these functions are very useful both in office software as well as in browsers. But I've found it very useful in online games that have long lists of chat that you normally can scroll up and down in.
I've previously used a wider mouse that normally fits my hand very well, such as the Roccat Kone [+] or Logitech 518. However, after two weeks of runtime on the Roccat Kova I can only say, my hand has adjusted and work very well with this mouse as well.
The USB cable is braided with a soft cloth like braid and doesn't seem to lock up the mouse when the cable is stuck against something on the desk. The USB connector has a stylish and sleek design with both the Roccat logo on it but also the Kova logo on it, making it easy to find the correct connector when you climb behind your computer to unplug it for some reason. The cable length is well enough with 1.8 meter.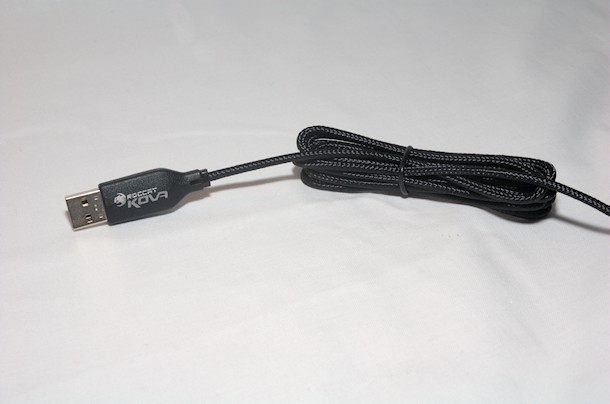 More tech stuff about the mouse reveals that the sensor is a Pro-Optic R6 that handles up to 3500 dpi and up to 7000 dpi with overdrive mode. The mouse features a 1000Hz polling rate and the response time is 1ms.
It can handle 20G of acceleration and the brain inside is a 32-bit ARM microprocessor running at 50MHz, powered with a 512kB onboard memory to store all your settings.
The most customizable thing about the mouse is the ability to change the lighting of the mousewheel and the rear bumper. With a 16.8 million colors to choose from, you can be sure that most probably, there is no one else that use the same color combination as you – if you're creative enough not to stick with one of the default colors that is.
You can also run with a color effect such as color flow, breathing or blinking. You can of course also change the speed of these effects to your liking.
My personal favorite with this white mouse is a red bumper as well as a red mousewheel, it looks very stylish and clean but also really powerful.
Just a few of the colors available to choose from, remember that you can pick more or less any color you'd like with the Swarm software.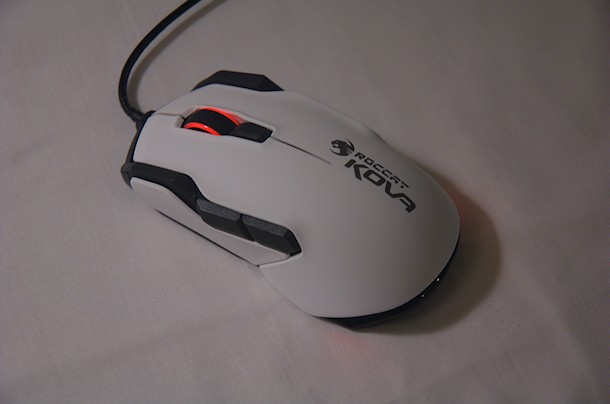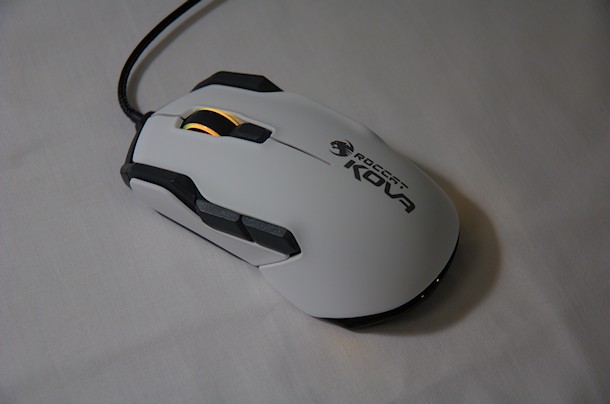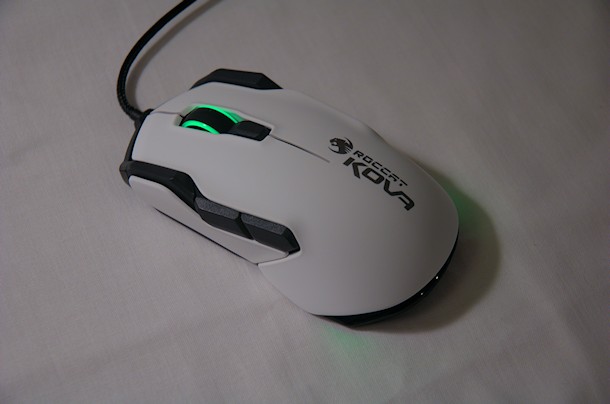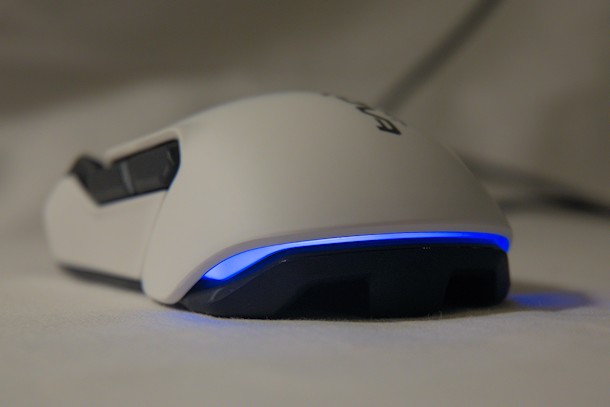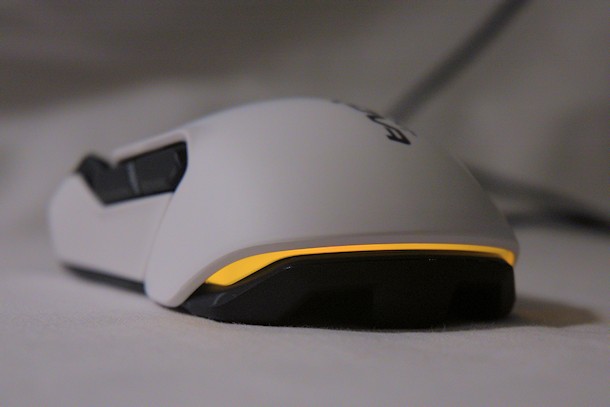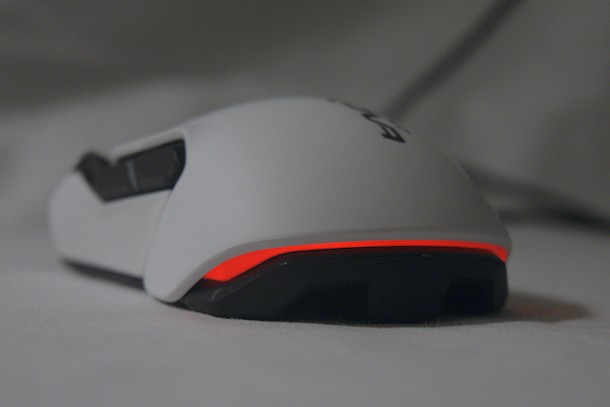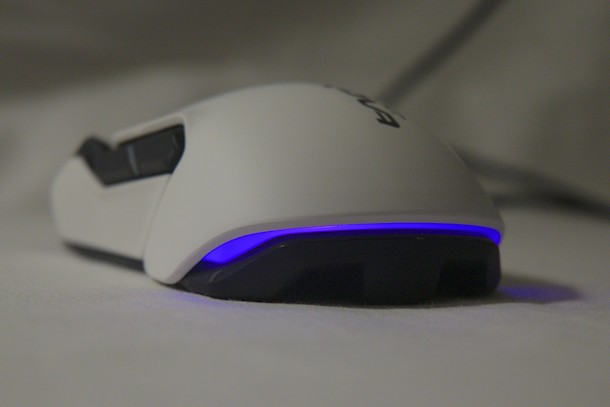 Some testing has obviously been done with this really good looking mouse. The results and thoughts?
Well, in the end I love the mouse and I can't see myself using another mouse without those extra side buttons for my index finger and long finger – I will feel lost! Another thing that I love is that the mousewheel doesn't feature left and right function which has been the cause of some previous mice to fail around the mousebutton in some disastrous ways.
I'm right handed, so for me pretty much any mouse works as most mice are made for right handed. But with that said, it feels very solid and great in my left hand and I can see that those who are left handed will most certainly have a great experience with the design of the Roccat Kova.
Have I said that it is very beautiful? With the two stage lighting effect also, you can customize it to your liking. The white plastic will probably wear accordingly with age and I'm certain it will turn yellow, grey or even black with time. All mice suffer from this in some way, so it's nothing special.
Is there something I don't like? Well at first I didn't like that it was narrower than what I'm used to, but with time I came to like the more narrow design and as I've said previously my hand has adapted to this design. One thing that I don't like even now is that the white plastic on its sides are two parts, no idea why this is but I've found that cleaning off the mouse can be tricky and it will surely be easy to smudge in dirt between the two plastic parts which perhaps isn't that great – but it isn't impossible to clean so it's nothing that drags the score down.
Can I find something that doesn't work as intended? Not really no.
Overall this is a really great mouse that works very well. With a price tag of 645 SEK, €65 EURO or around USD $70 it really isn't that expensive either. Of course, there are always cheaper mice out there but also, there are some that are incredibly expensive as well.
The price tag of this mouse is perfect and I can't do anything else than recommend this for everyone who needs some more control than what you get from your regular mouse.
A great mouse with a great price, thanks to Roccat for this awesome product!