TrendNet TK-214i
Today we'll have a look at another TrendNet product, this time it is a KVM and for those of you who don't know what a KVM is, you will soon learn something new.
The KVM we have on our bench is the TK-214i and what it actually is, is a product to switch one monitor with peripherals between two computers. KVM stands for Keyboard Video Mouse. In the beginning, this was purely what you could switch but as time has moved on KVM switches has been filled with features that the manufacturers couldn't even dream of in the beginning.
With the TK-214i from TrendNet you can also switch Audio (microphone and speakers). Another thing that is different from the older KVM products is the size. Usually with older products you get a minimum of a "gigantic" metal box with a large pointy knob in the front to switch between computers.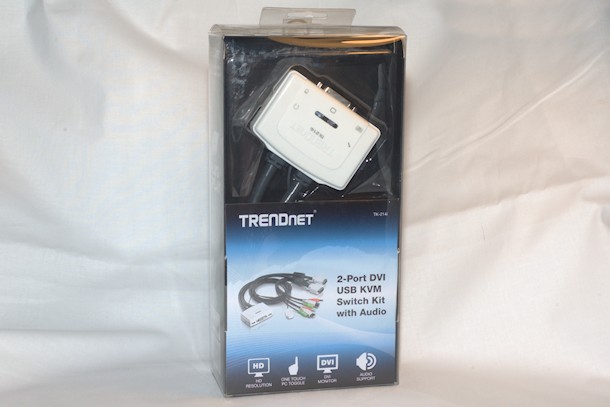 Today the KVM switches are the size of a memory card reader or a USB power bank, of course depending on what sort of KVM switch you're looking at.
The TK-214i comes with a DVI interface for your monitors, two USB 2.0 ports, one 3.5mm jack for an audio out and one 3.5mm jack for audio in. It also features a push button with a long cable, so you don't have to have the switch accessible, all you need is the button to switch between your computers.
It also features resolutions of up to 1920x1200 and supports Windows, Linux and Mac.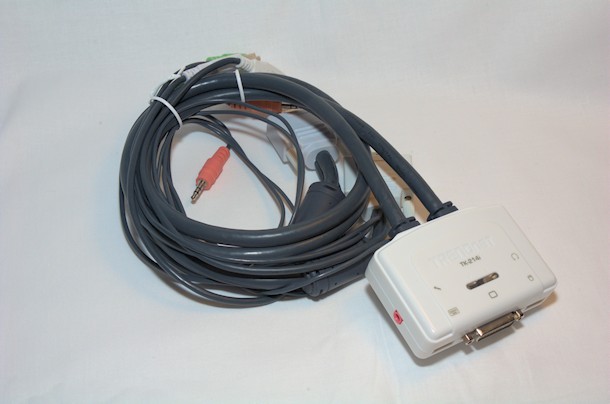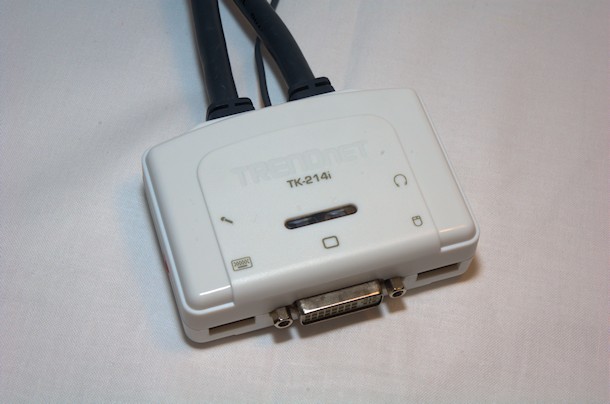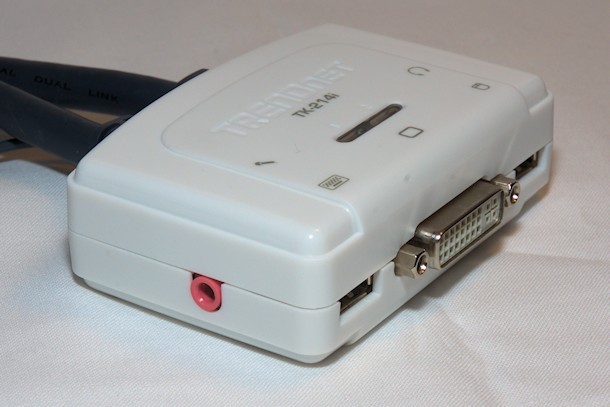 Why would you want to have a KVM switch then? Well there are loads of different uses for it and two things that comes to my mind is, firstly for a server environment and the second is for gaming. KVM switches can have many different inputs and can also feature multiple outputs.
Say you have two servers in a server rack that you want to be able to have a screen for to control them. However you don't really have the space to setup two different screens and you really don't feel like reaching in or going around the back to unplug the monitor cord from one server to the other. Also, think about the wear and tear when unplugging and plugging back the cord - it isn't an ideal situation.
The best solution to this is to use some sort of KVM switch. For this test we have the TK-214i that connects to both servers with a separate DVI cable, One USB cable for two USB products - in this case a keyboard and mouse, and audio cables that perhaps is not of much use on servers, but still.
Then you connect up the KVM to your monitor, position the button to switch between the inputs of the KVM somewhere close to the monitor - and you're done.
You don't really have to install any drivers or set anything up more than connecting everything. It just works.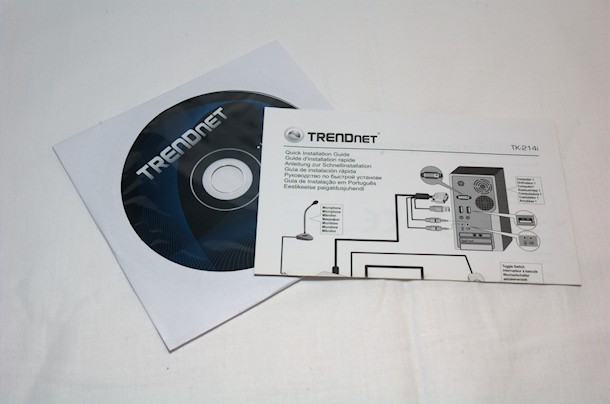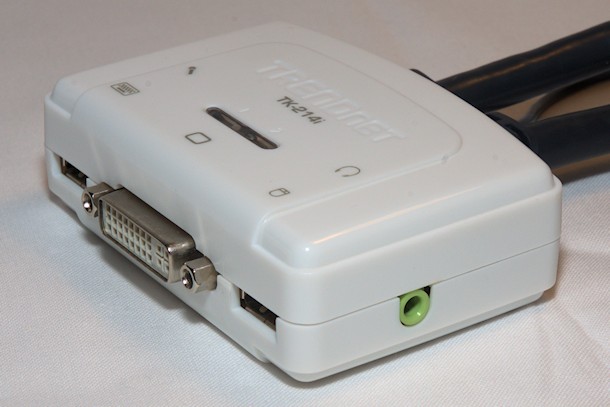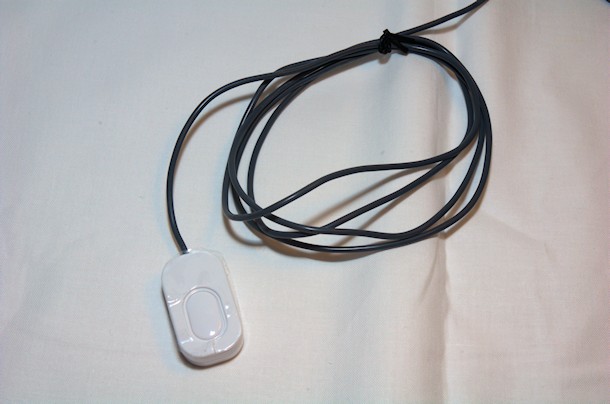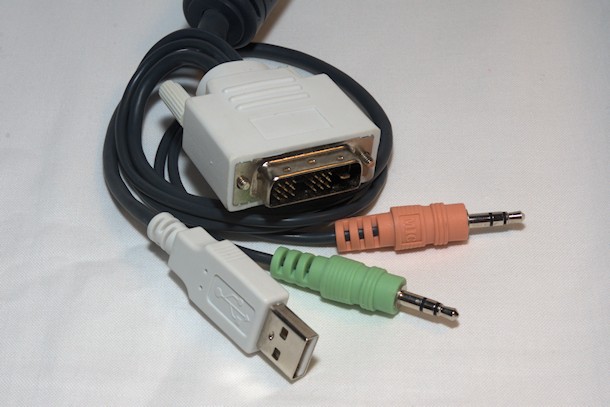 However, if you're one of those who just love drivers to install and getting those extra features, TrendNet has thought of you as well. If you install the drivers you can configure software hot-keys to switch between the computers without even using the KVM button. You just use a key sequence on your keyboard instead - really awesome!
You can also set it up so that the monitor switches between the two computers on an interval timer, if you perhaps have the screen somewhere a few meters away from you and just want to glance at it from time to time and see that the servers are still running, its great idea as well.
That is the server part of my idea for what you can use this product for. Another is actually for gamers and especially those who are thinking of getting a second computer for streaming to a service such as Twitch, YouTube or Hitbox.
The idea here is that you only have for example two screens, one main gaming screen and a second extra screen for showing chat or a list of things you have planned for your streaming session.
However, streaming can put a strain on your system - especially when also running a high performance game in which you need every single frame to be on top of your competition. The solution is then to use a somewhat powerful second computer, which doesn't need a high performance graphic card or the latest processor. Possibly your previous computer or a computer that you can build together with older parts.
All in all, you don't need a high end computer to stream, if that's the only thing it will do.
The setup then consists of two computers, one high end and one average, compared to the high end. Then a capture card like an Avermedia Live Gamer HD or Game Capture HD 2, fitted in the average computer capturing your gameplay from the high end computer.
On your high end computer, you just game and have fun like you usually do but by moving the encoding and streaming away from that computer to the average computer you free up some resources and make your game run smoother.
However, those two screens you have may not be enough. Perhaps you should get a third screen? Ah well, it's a little bit too expensive or maybe you don't have the space for it on your desk or even in the room you have your computer?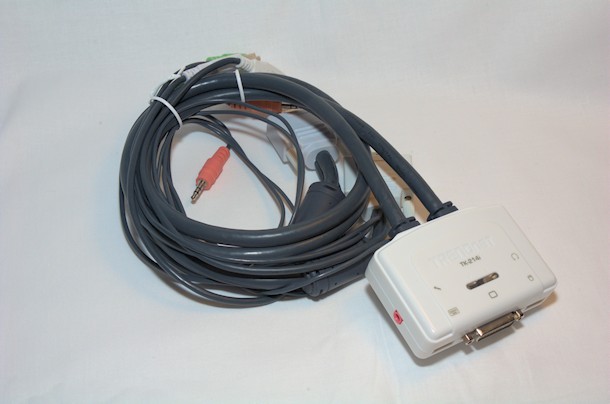 Usually you use both your screen for putting a browser on the second screen while gaming, maybe running in windowed mode so you can easily move your mouse out to your second screen for a chat or just monitoring Teamspeak or any other software.
So, it's not ideal to just switch over the monitor cord between your gaming PC and the average PC every time you want to stream, just like in the server example. But you still want to use the second screen for your gaming PC when not gaming, however while streaming it is better to view the content on the screen from your streaming PC.
The solution is simple, by using a KVM switch you can so easily switch over the second screen to your streaming PC and view all the streaming, Teamspeak and all other software that you need while streaming without unplugging or making one or the other machine suffer functionality.
Is this solution better than getting a third screen? Both yes and no, it all depends on your needs and the space you have available - but most importantly; your budget.
A KVM switch like the TK-214i goes for a lot less than your average gaming monitor goes for and while a 1440p and 4K screens are getting cheaper, I don't you will get one of those just for second screen. If you have a second screen already, it is probably able to display a maximum for 1080p and then the TK-214i is very suitable for this project.
All in all, the TK214i from TrendNet is a superior product that isn't too expensive but gives you great functionality for a limited setup. It is very easy to use and should very well be in there as a choice between a third screen to use for a second computer or to use your existing two screens, just switching one between two computers.
It really is a great product!
I would also like to thank TrendNet for sending us the product to test and review.