Cooler Master Nepton 120XL
Today we're having a look at a new watercooling kit from Cooler Master, the Nepton 120XL. This kit is an all in one solution that makes it very easy to install watercooling on your system.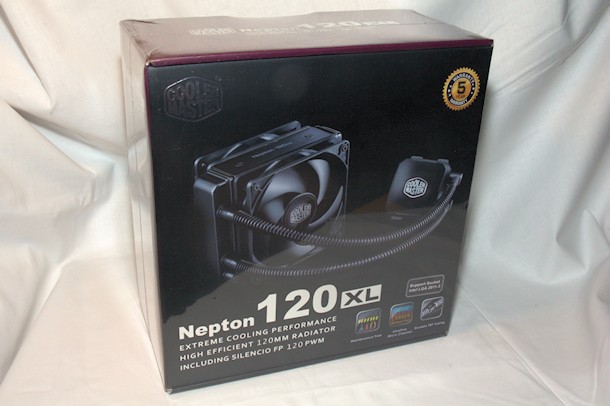 The Nepton series is not the first version of watercooling that Cooler Master has offered, they have a whole line of products both in the past and available right now. The package we take a look at today features a single 120mm radiator for use with one or two 120mm fans. Preferably you would use both the fans that are included in the package for a push-pull setup.
Furthermore the kit includes a CPU block with retention kit for the many different sockets available today; Intel 2011-3/2011/1156/1155/1150/1366 and even the 775 socket. For the AMD side we have support for FM2+/FM2/FM1/AM3+/AM3/AM2+ and the AM2 of course.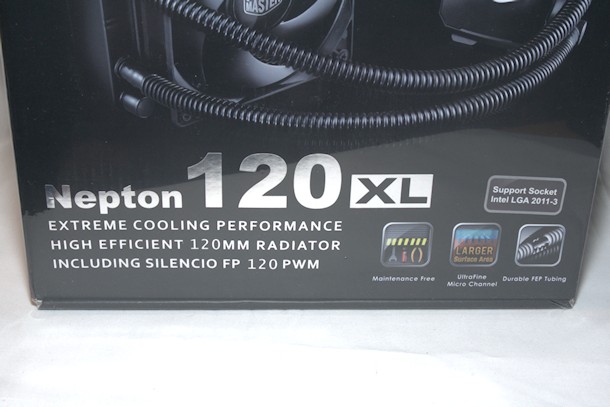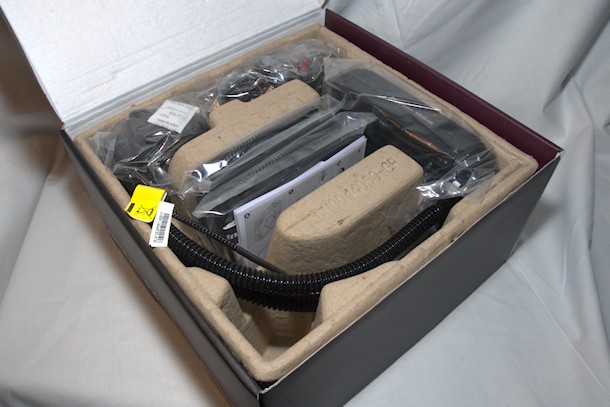 As said before, the Nepton 120XL is an all in one kit, so you don't have to worry about running tubes around your computer case from the radiator to the CPU block. This can both be a bad thing but mostly it is a good thing, especially for those who want an easy and fast solution, but also if you don't know much about watercooling but want to enter the overclock scene with a decent boost.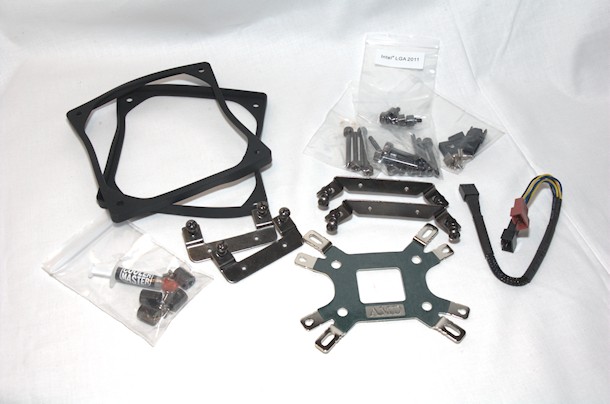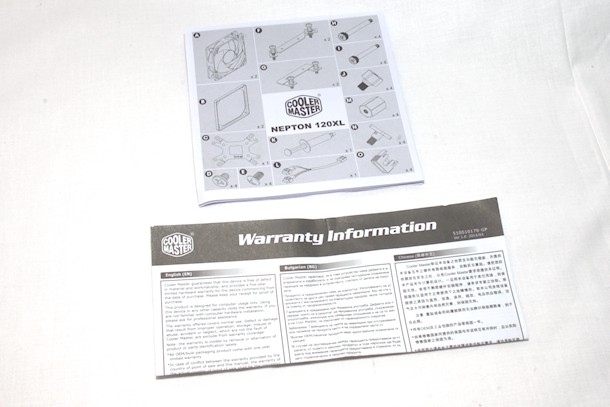 The tubing that is installed on this kit is of the FEP type, short for Fluorinated Ethylene Propylene. Does that make it more understandable? Well perhaps not, but these tubes has a melting point of over 200 degrees Celcius - high enough to withstand a decent overclock.
The material is quite thin, but has a very strong wall making it very durable. The shape of the walls should resist kinks on the tubing compared to regular tubing. This is of course very important as a reduced flow in the tubes would mean that the cooling system won't be able to transfer enough heat away from your CPU to the radiator to cool it down.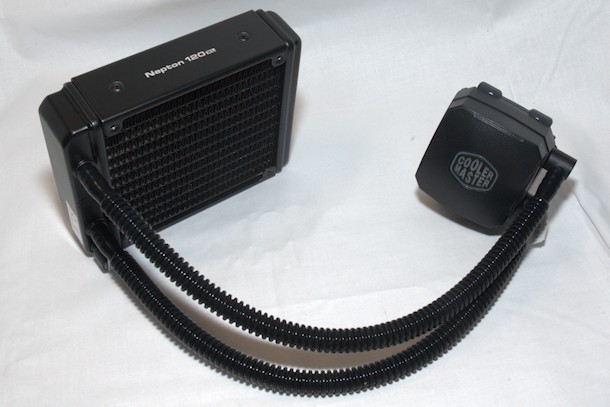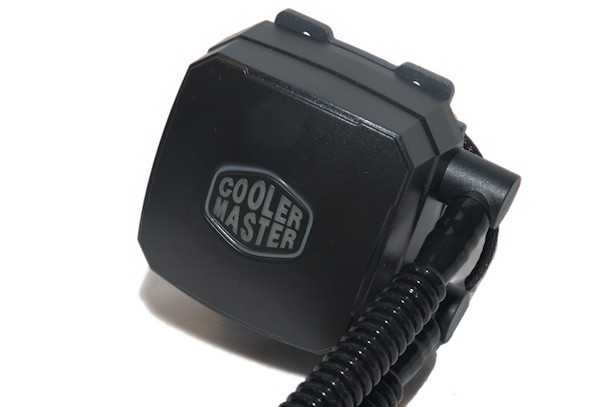 FEP is also supposed to decrease the coolant evaporation rate, which of course always is good when it comes to watercooling, but especially with an all in one system as it's more or less not very serviceable. One thing to note, if you do pop off a tube from either the CPU block or the radiator, you will void your warranty.
So, where is the pump? Well the pump is built into the CPU block, as most all in one kits today. This makes it possible to keep weight and size of the kit down to a minimum, but also the complexity.
Cooler Master has included a special exclusive pump motor that has a capacity of up to 120 liters per hour and the lifespan is expected to be up to 70,000 hours. Sounds good, but I doubt you will use the same watercooling kit for around 19 years. ( 70000 hours / 10 hours a day / 365 days a year = 19 years ).
However, it should work flawlessly during the time you actually do use it and it should do it very well.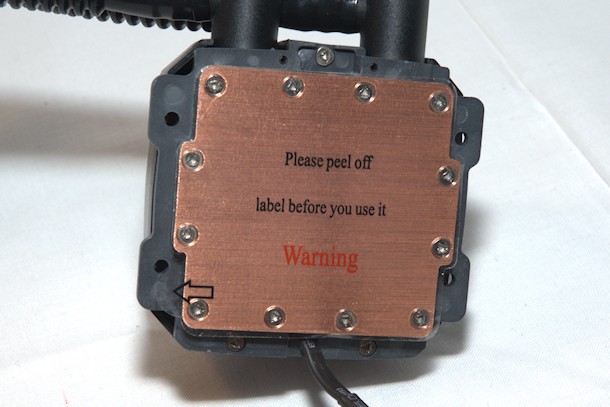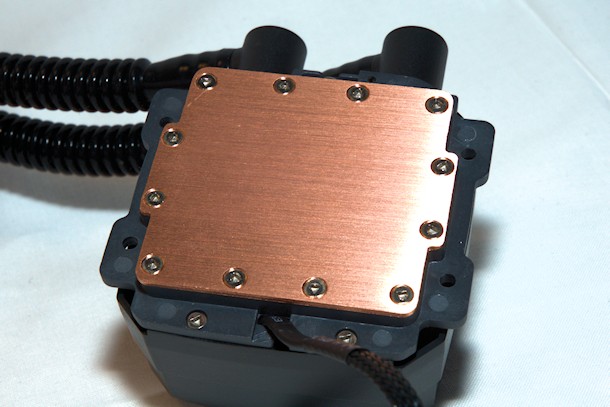 The CPU block base is made out of copper with a 32,000 mm2 skived fin area, the area where the water actually draws away the heat from the copper block. According to the Cooler Master site they have a comparison with the Corsair H80i which only features a 7,000 mm2 skived area.
What about the fans then? Cooler Master has included two of their Silencio FP 120 fans which has excellent specs. Air pressure is around 4.8mm H2O, the noise is very low with a maximum of 27 dBA and the current drawn is a merely 4.8W (12V, 0.4A).
They also feature a low starting voltage, fan jam protection, auto-resume after blade obstructions are cleared as well as polarity proof which I can say, I don't know many fans that feature that.
Silencio fans also feature a very sealed construction with the highest dustproof level of IP6X and a lifespan that outperforms the pump in this case two-fold, with 160,000 hours.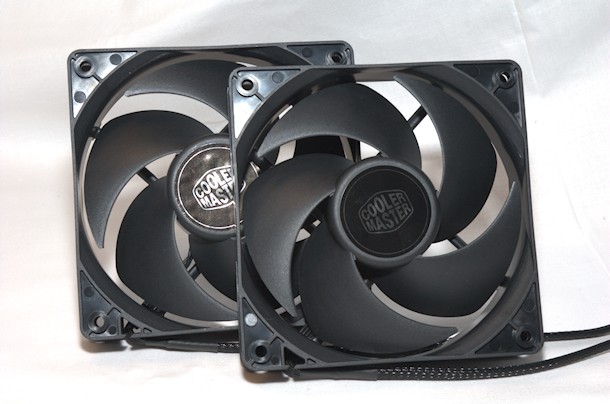 Surely this sounds, on the paper, as a very awesome performing kit with a very low noise level.
On next page we'll have a look at the testing procedure and the results.