Trust Jukebar
Music is something that we more or less always need and have always wanted to hear. Gone are the days when we need to be in a specific place to listen to a HiFi system sharing the music with others, or putting on a pair of headphones to listen to music for yourself through a select variation of MP3 and other audio players.
Bluetooth speakers has been available for quite some time already and while HiFi systems most often perform best if you really want to experience the music, there are some wireless and portable speakers that do a really nice job.
We have previously tested the Jawbone Jambox which performed very well with a great batterylife. However today we're looking at the Jukebar from Trust.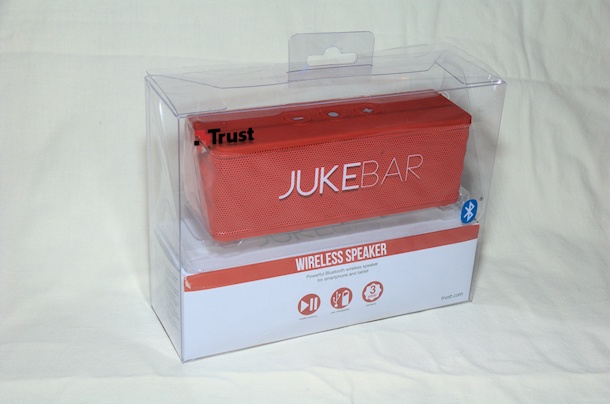 Something that is extra fun is that the first good digital camera I tested in my life as a journalist, back in time when a Nikon or Canon was way out of reach, was a camera from Trust. It worked very well for a couple of years, but then it was finally time for a Nikon which I still use.
However, the Jukebar certainly cannot display or shoot any images, but it can wirelessly playback music from pretty much any Bluetooth enabled device.
The package clearly shows off the red speaker with what seems three simple buttons on top.
I can't help it, but in comparison with the small Jawbone Jambox, they do look very much like the other, with some differences of course.
In the package we find a quick installation guide, a legal information leaflet, a 3.5mm jack cable with two males, a USB-A to USB mini-A cable and a USB micro-B to mini-A adapter. Why they didn't go for a micro-B directly I have no idea.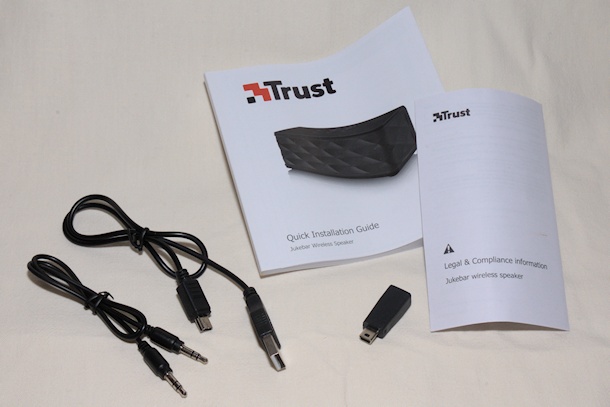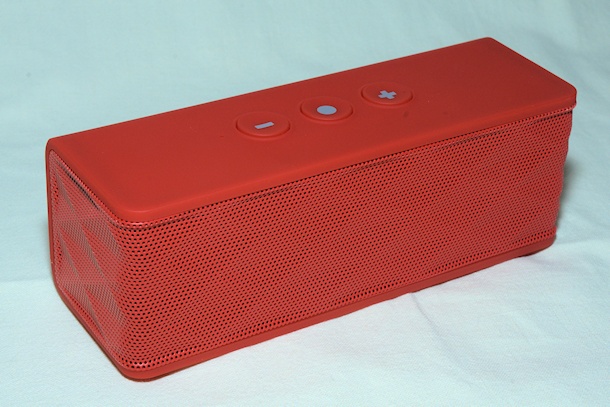 The Jukebar features a stylish diamond pattern in its grill and with its small dimensions of 15x5,3x5,7cm (WxLxH) and a weight of 350 grams this is a portable speaker you do want to take with you both because of the looks but also for the small size.
The Bluetooth functionality is good for around 10 meters according to the specs and we should be able to blast music for about 17 hours. There is also a microphone built-in so using the speaker as a speakerphone should be possible.
In the front of the speaker we have two elements which are barely visible behind the metal grill. In the bottom we have a woofer vent which should give some bass sounds and in the back we have the power switch, USB charging port as well as a microphone and headphone jack.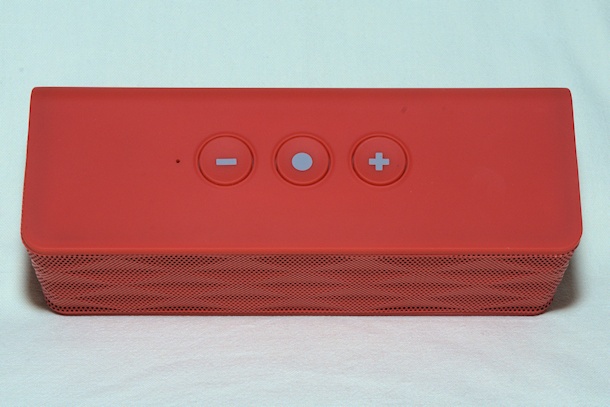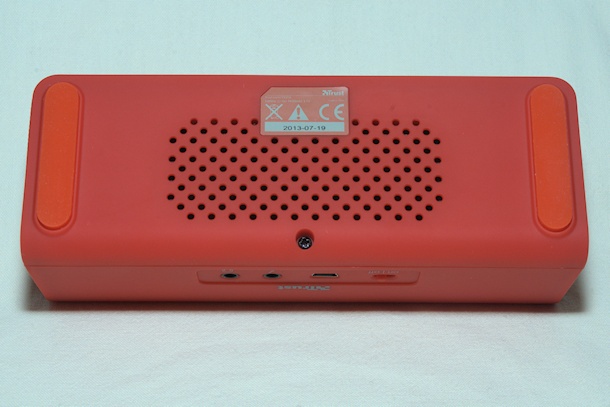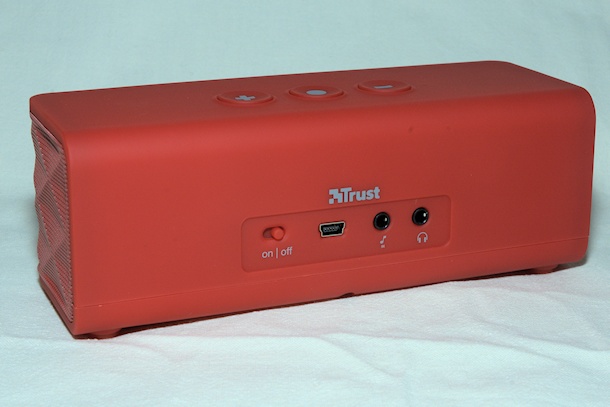 Turning on the speaker is just a matter of flicking a switch and it goes into searching mode, waiting to be paired with whatever device you have at hand with Bluetooth enabled.
Just pair your device with the speaker and you're set.
So, does Size matter?
We have previously also tested the Antec SP-1 which didn't produce such a great sound with too much treble and too little bass. What is the case with the Trust Jukebar?
I'm happy to tell you that the Jukebar does sound really good. At the moment I don't have any specs on the elements used in the speaker but wow, I'm impressed. Of course, it doesn't have the oomph of a Jawbone Big Jambox but the bass is surprisingly good.
With that said, there are more to music than just bass, even though some might not agree. However, the mids and highs are very good sounding as well.
For some reason this small speaker is able to produce such good and high sound that I'm speechless. Bear in mind, this isn't a Jawbone Jambox, Harman Kardon Go+Play but it does sound better than pretty much any small size speaker I've heard with a sound identical to a Jambox but scaled to smaller size.
After a couple of cycles of charge and use to drain the battery we can safely say you get a minimum of 15 hours of playback with quite high volume. You can easily also go over 20 hours if you don't blast the music on highest.
I can only imagine what a Jukebar the size of a Big Jambox would sound like. Most probably, like a Big Jambox.
Some manufacturers out there are either winging it or just purchase a noname brand and hope for the best branding it as their own. But the Jukebar that Trust sells is an amazing product that I can only recommend to anyone.
The small speaker, great sound and good enough pricetag is more than enough reasons for getting one. Bring it with you, anywhere you go and continue to amaze people with what a great sound this little piece of technology can produce.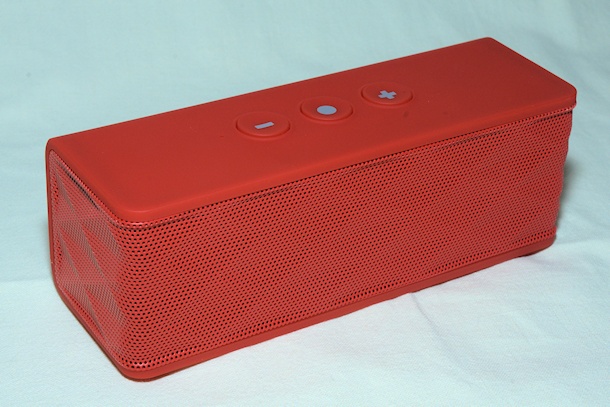 This is one of the best products we've ever tested since we started SweMOD.
I would like to thank Trust for sending out this product for us to test and review.