Corsair Vengeance 2000 Headset
Today we're having a look at the Vengeance 2000 headset from Corsair. A brand new headset featuring 7.1 surround sound and a main focus on gaming.

The Vengeance 2000 comes in a very stylish and good looking box, showing off its contents. In the front of the box we find the USB stick which provides the 2.4GHz wireless connectivity and just a sneak peak of the headset itself.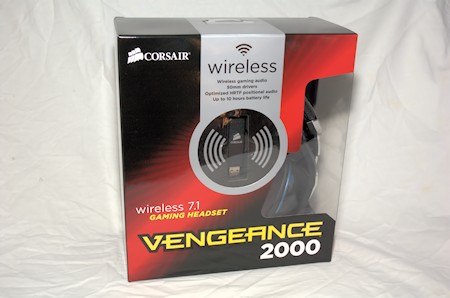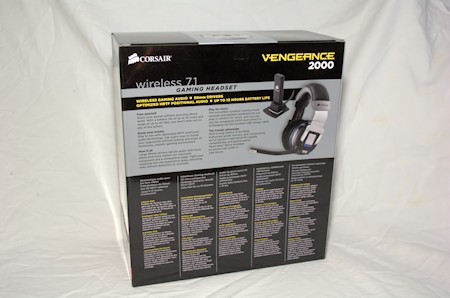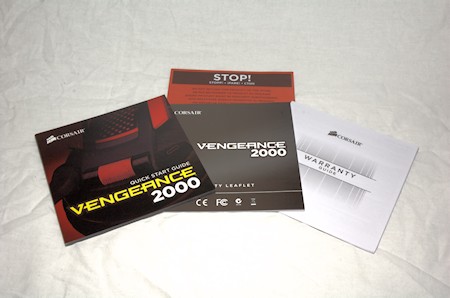 Vengeance 2000 comes with 50mm drivers, which claims to give powerful and deep bass with detailed mid-tones and crystal-clear highs. It can also handle both 5.1 and 7.1 surround sound, by rendering audio with duplex ITD (Intra-aural Time Delay), IID (Intra-aural Intensity Difference) and game-optimized HRTF equalization so that you can pinpoint your opponents' locations and gain a competitive edge.

Together with those features, the Vengeance 2000 also features 2.4GHz wireless connection which gives advanced error correction and channel-hopping technology that virtually eliminates interference. This is surely nothing special, the R/C industry has used these features for some years already and with that said, that "it's surely nothing special", it doesn't mean that it doesn't work or similar. Instead, Corsair is using a technique that does work.

I remember some 10 years ago, when the first wireless speakers came out for Philips televisions (back when flat screens were something for the rich and wealthy). These speakers did get interference from pretty much anything you had in your home. Yourself included! They were more or less worthless, mostly because they tried out some cheap and easy to use wireless interface that "seemed" to work. But when customers bought them, they experienced all sorts of errors and sounds when trying to watch for example a movie.

My job at that time was to service these customers with solutions and trying to configure their setup to work as best as it could with the present circumstances. Alright, so enough talk about those crappy speakers.

The difference with the Vengeance 2000 is that Corsair is using this new channel-hopping technology that virtually eliminates interference thanks to using multiple smaller channels in the 2.4GHz band. Sure, some of these smaller channels surely have some interference on them, we all have wireless networks at home and even if you don't, your neighbor has one. So while we hop over some channels we still have the interference that might give you some crazy sounds screaming in your ears.

But that's where the error correction comes in. By sending the same "data", in this case the audio, a couple of times over several of these smaller channels, the receiver can be sure it gets the correct data when it finds two or more data packets that looks the same.

This means that we, at worst, get something like 50% good packets and 50% bad packets, but thanks to all the good packages we don't have to listen to the bad packages and therefore it's just, great!

It can be hard to understand, but I promise you, if you want a high quality audio link, the products you should be looking at should use both channel-hopping tech and error-correction functions.

Furthermore the Vengeance 2000 features 48KHz uncompressed audio at a range of up to 40 feet, or for us others, around 13 meters. This means that you can walk over to the closet or perhaps the fridge on the other side of the room still wearing your headphones, pick up some soda and then walk back, all while you're listening to some beautiful tones from your favorite music player.

Also, with a long battery life of up to 10 hours of usage, you won't be stranded in the middle of a gaming session by becoming deaf. Well, you might be if you boost up the volume anyway ;)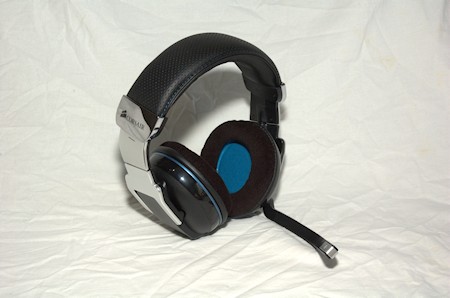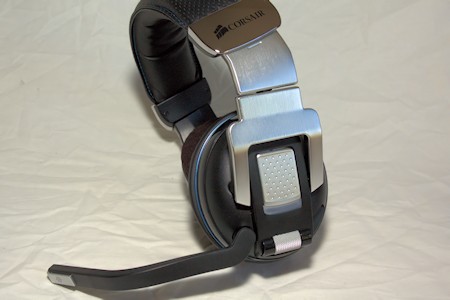 When we're talking about gaming, we could just as well continue with the small arm that you can see on the headset, that is the microphone. A stiff and stable arm you might think, but no. The microphone arm is flexible and rotatable, it is also "locked" in position in several small steps by soft clicks. So when you adjust the arm, you can feel some quiet soft clicks that will make sure the arm isn't flinging around when you move your head. Another feature is that when you pull the mic upwards you will automatically mute the microphone.

The headband is also adjustable in several positions for each ear, the earpieces also swing to position themselves around your head in a better way. This should minimized the strain against your head and hopefully make it more comfortable in the long run. The headband is stiff with padding in a leather like fabric.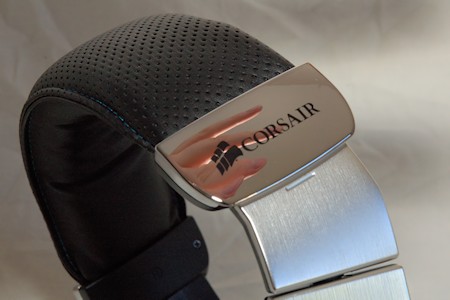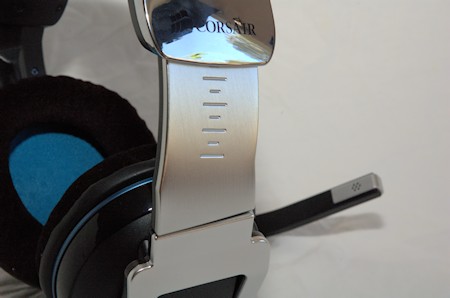 The earpieces feature microfiber-covered memory foam ear pads which feels great. These are also great when you wear glasses, either for eye problems or those "gaming" glasses that can reduce the amount of light that enters your eyes which in turn will give you more hours in front of your computer.

On the side of the left earpiece we also find a silver button, an LED window and a scroll wheel. The button when pressed and hold for a few seconds enables or disables the headset. If the USB stick has been connected to your computer, when you enable the headset it will automatically sync with the USB stick and changing the audio in/output of Windows to your headset. The LED window blinks blue both when searching for the USB stick but also when it is powered on and is synced with the USB stick.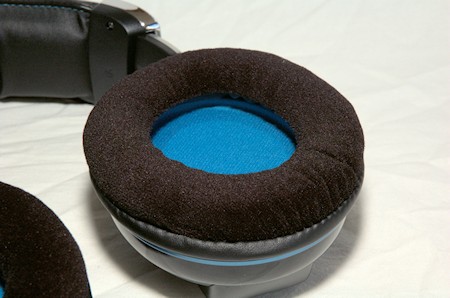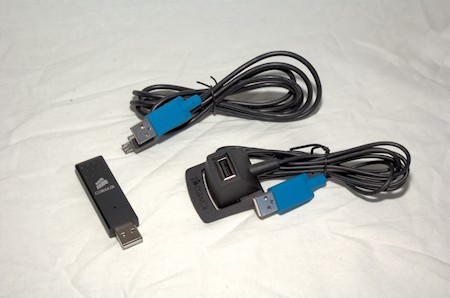 Finally the scroll wheel, which is used for.. What can you imagine? Well, the volume of course. Just as with the microphone arm, the scroll wheel features these quiet small soft clicks which gives like 1%-2% increase/decrease in sound volume.

Apart from the headset you also get the USB stick, but to make it easier to both connect and disconnect the stick you get an extension dock in which you can connect and disconnect not only the Vengeance 2000 USB stick but also USB memory and all other USB products you can find. Not that you should, but you could ;) There is also a charger cable, a cable like the ones coming with newer phones from Samsung, Nokia, Sony Ericsson. But this one is much longer and can of course be used with your phone and other products that use the same small USB connector.


That's pretty much it for the actual headset. But what about the surround sound? How can you hear surround sound with just two speakers?

The answer to that is, the same way you hear surround sound with only two ears. As you know, you can hear (without a headset) if a person is talking in front of you, behind you or to any of your sides. Nothing strange with that, right?

The Vengeance 2000 features optimized HRTF (Head-Related Transfer Function) and duplex ITD/IID technology. This uses special audio filters / algorithms and digital signal processing to recreate the spatial cues that allow our ears and brain to locate sounds in three dimensions, despite only having two ears.

Alright, the last sentence actually comes from Corsair themselves, as you might understand from the language. But in plain English, this means that some smart dude came up with a way to make two speakers produce sound that to our ears feels like surround sound, sound like if we were to use no headphones and was out in the real world listening to people all around us. Quite neat for sure!


But no review is complete without some tests and as always, when testing sound equipment it's always up to the listener. What I hear is quite different to what my girlfriend hear which in turn is different to what you yourself hear and for sure is different to what dogs hear. Alright, but these headphones aren't for dogs so, let's have a look at what I think about the output of the Vengeance 2000.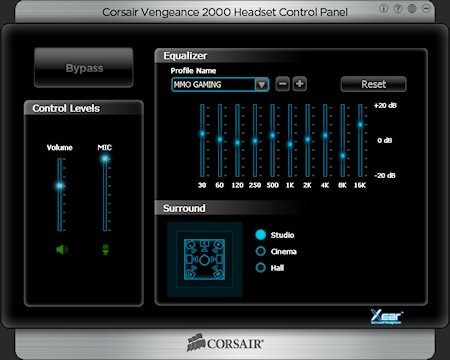 Thanks to the software that you can install, if you want, the Corsair Vengeance 2000 Control panel, you can change a few settings. You can change between several equalizer (EQ) profiles that you both can create yourself and use the ones that comes with the software. You can also change the type of surround that you want out of your headphones, between Studio (small), Cinema (larger) and Hall (largest).

There are separate profiles for gaming and music and those specific ones are up to you, which sounds the best. I can't decide for you as I can't hear like you do. The sum of this is, you are in control!

I must say that it sure is great fun to try around with the profile and different settings, especially together with the surround settings to create a concert like environment, compared to your home studio where you have limited space and can't crank up the bass too high.

A small walkthrough of the profiles that comes with the control panel;
Audiophile 1
This provides crisp, clean audio for discerning listeners who want to hear every detail even in the high-frequencies, and pick out each instrument.


Audiophile 1+
This accentuates extreme high-end frequencies for even more detail (for example, page turns, instrument keys clicking and so on).


Audiophile 2
This is more mellow and warm, for discerning listeners who want to enjoy the overall sound / big picture, and listen to all aspects as a whole. It's also good for dance/house music with more bass and "oomf".


Audiophile 2+
This accentuates the extreme low-end for an even more immersive, full-sounding experience.


FPS Gaming, MMO Gaming
These are self-explanatory, and designed to provide the best audio in FPS and MMO games.


Movies Mod-X [TM]
This re-equalizes audio that was originally mixed using the SMPTE "X" curve for cinema presentations.


Reference
This is an electrically flat EQ profile, for those who like their audio unadjusted.


I've tested this headset with several games and quite a few songs. It surely gives a whole other perspective in games, especially FPS games where you can hear the bullets fly just past you. MMO gaming surely is great as well, the Vengeance 2000 lifts up the beautiful sounds just like it was supposed to be heard.

When it comes to music, there are so many different genres and songs you can test. I've tried all from classics to ambient, from rock to pop, oldies to Swedish dansband. The sound is fantastic and the bass surely is great.


The final verdict of the review on the Vengeance 2000 from Corsair is that this is for sure the best wireless headset available on the market today. The audio quality can be compared with a wired headset anyday, I can't find anything negative about this headset.

The audio quality is great, the power of the sound both bass and highs are awesome, the actual power feel is equal to the power of turning up regular 2.1 speaker sets to a high volume so you can feel the bass in your body. Ok, you only feel the bass in your head, but the feeling is the same. The accessories that comes with the headset is more than enough and the long battery life is just, well done!

This product is one of those products that most probably will hit the number one spot on product comparisons in the end of the year. That's my prediction at this time.

All I can say is, if you have the possibility to have a test of a pair of Vengeance 2000, take the chance.