Sandisk Extreme SSD 120GB
Today we're having a look at the Extreme SSD from Sandisk, featuring 120GB of storage. Sandisk which is one of the largest and most possibly -the- memory solution company that most people around the world either has heard of or have a product from has released three new disks in the Extreme SSD series, the one we have on the testbench today 120GB and then also 240GB and 480GB.

These new drives feature a SATA 6 GB/s interface thanks to the SandForce controller, a controller that is very popular amongst the manufacturers for high-speed Solid State Drives. The SSD family we're looking at today is also backwards compatible with both SATA 3 GB/s and 1.5GB/s systems.

The drive comes in a black and red box with some information on it. Inside we find the drive itself and an installation guide with warranty information. The Extreme SSD from Sandisk comes with just that, no cables and no mounting hardware. Even though we have tons of cables and millions of screws and our test rig is equipped with mounting hardware for 2.5 inch disk drives, it would still be nice to get at least a cable.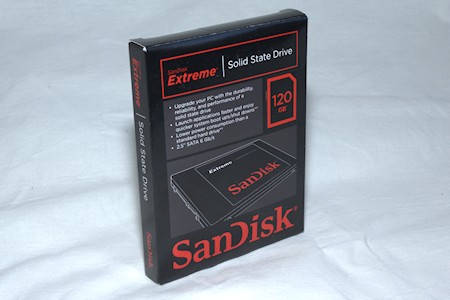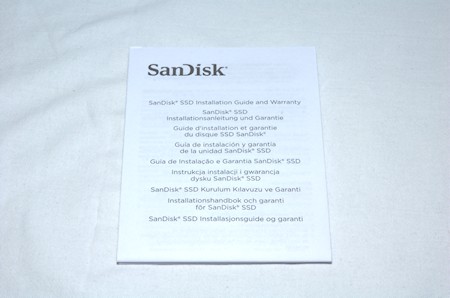 With that said, I do believe that Sandisk is thinking more about the environment than about giving "freebies". What is the chance that you already have a SATA cable and screws? When was the last time you got an ATA cable bundled with your old IDE disk drives? It sure is a smart and obvious move from Sandisk. I'm just in love of excess, so that might be why I miss the extras ;)

Heading forward, looking at the disk itself. The Extreme SSD from Sandisk is an 2.5 inch drive and if you haven't heard about SSD drives before, the SSD stands for Solid State Drive. Compared to an older IDE/ATA drive which has rotating disks that spin between 5400 and 15 000 rounds per minute, the SSD features only IC (Integrated Circuits) chips with no moving parts.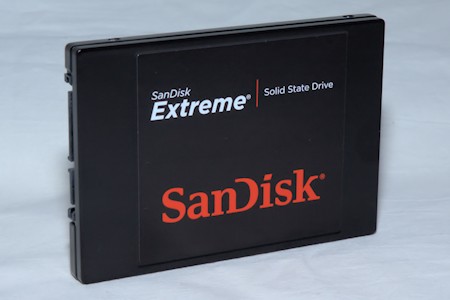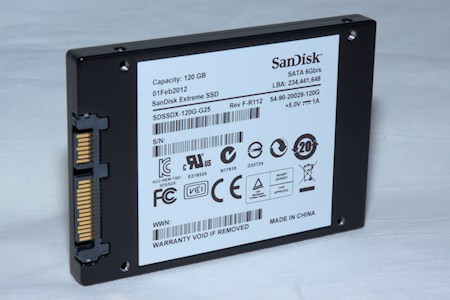 This results in a quiet and cool drive, instead of the sometimes really loud mechanical drives which also generates quite some heat from the motor, spinning the magnetic disks.

So, thanks to small IC chips, in this case memory chips, the drives can get really much smaller than the disk drives. Sandisk also uses their own memory chips in their SSD products, which surely gives the image that these drives should be reliable and of high quality. Nothing bad said about Samsung and their chips that most others use, they are great as well for sure.

On next page we'll have a look at how the Extreme SSD performs and compare it with the above data from Sandisk.