SteelSeries QcK
Today we are taking a look at the QcK mousepad from SteelSeries. Short after our review with the Boogie Bug mousepads, SteelSeries wanted us to test their QcK mousepad.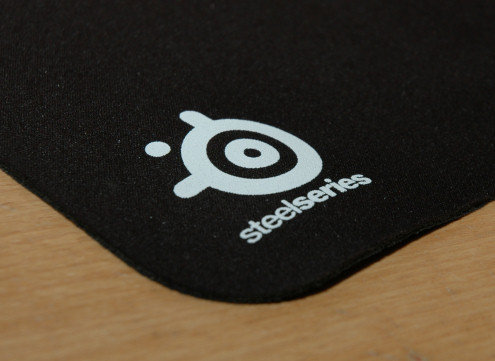 The QcK mousepad is available in different dimensions and thickness, check the following list to see the different kind of dimensions.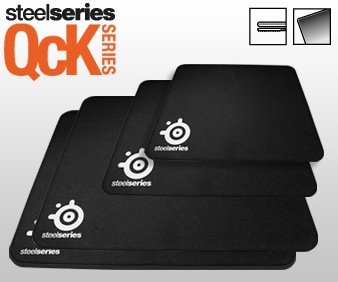 SteelSeries QcK Heavy
Size: XXL
Heavy thickness eliminates uneven surfaces
450 x 400mm (17,7 x 15,7in) - thickness 6mm (0,23in)
SteelSeries QcK+
Size: XXL
450 x 400mm (17,7 x 15,7in) - thickness 2mm (0,08in)
SteelSeries QcK
Size: Medium
320 x 270mm (12,6 x 10,6in) - thickness 2mm (0,08in)
SteelSeries QcK Mini
Size: Small
250 x 210mm (9,8 x 8,3in) - thickness 2mm (0,08in)
In our test lab today we have the normal, medium sized QcK from SteelSeries.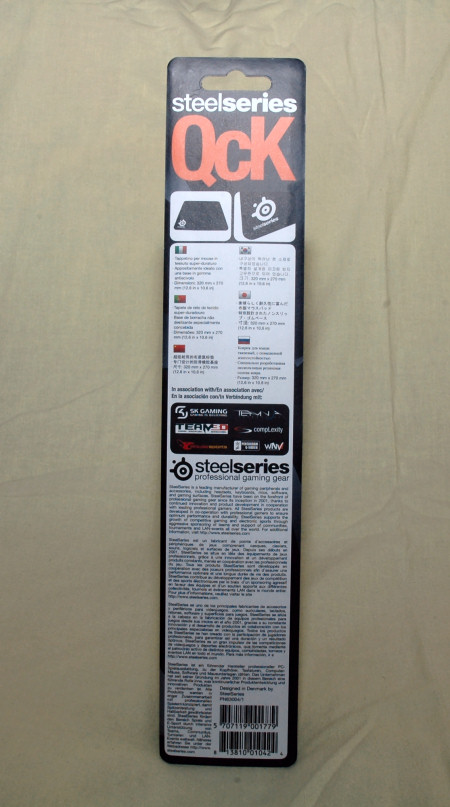 The QcK comes rolled in a tube-like package just like the Boogie Bug pads. It has a stylish design both on the information sticker on the front and well informational backside featuring several languages.
When we open up the package we find the rolled mousepad and some information sheets that show us their latest products. Earlier mousepads sold by SteelSeries included mouse skates as well, but that is not the case with our QcK mousepad.
Cloth mousepads are generally more forgiving and let you slip your mouse over it without any troubles. That was however not the case with the steel and plastic mousepads as they needed those teflon tapes to give you the right feeling.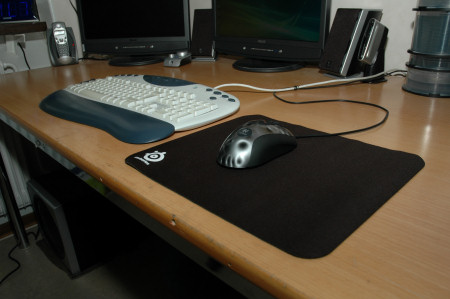 The base of our mousepad is, like the Boogie Bug pads and earlier plastic pads from SteelSeries, covered with a non-slip rubber.
The QcK medium sized mousepad is only 2mm thick. This, together with the high-quality cloth surface, should make up for a great mousepad. It shouldn't wear off in the edge where you have your wrist.
You probably know that earlier cloth mousepads that had a thickness of more than 2mm will be worn down sooner or later quite well. Only time will tell how the Boogie Bug and SteelSeries mousepads will survive.
As always, a mousepad is tested with a mouse. I use my Logitech MX518, an optical high-quality gaming mouse. Tests were performed with my graphics program to edit pixel graphics for another project I'm working on.
I have also used the mousepad with my mouse in general usage with Windows Vista. Of course I've tried playing Quake 4 and Counter-Strike, that most of you know is two fast-paced games that require high-quality gear as well as quick reflexes.
The last of the two requirements may not be as good as it once was, but with a good mousepad and a well working mouse you get some help to perform those well needed headshots.
There is no doubt why many gaming teams use the gear that SteelSeries sell, they are very well working and they look good.
Compared to the Boogie Bug AIMB.Pad, it's a tie. However it's up to you if you like 2mm or 4mm thickness. No matter what though, I still love my XXL pad from Boogie Bug.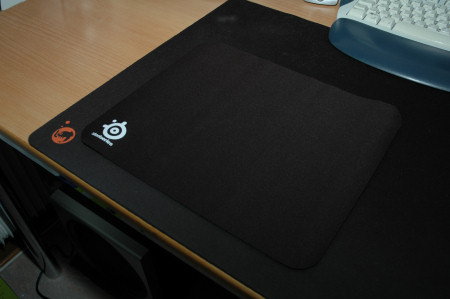 The following table will give you an idea of what I think of this product.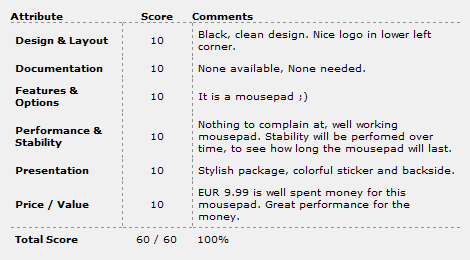 This product has scored 100%, which is no surprise as it only has one feature and it performs great at this, lonely feature ;)
I would like to thank Thomas at SteelSeries for sending me this mousepad.